short intermission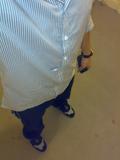 "stripey casual":
uniqlo-plokhov*levis-fenom*NB-st33 stingray
Met up with a couple of ex-colleagues for a get together as one of them was returning to China. Been awhile since i last had those
Chong Qing
hotpot meals...scalded my tastebuds for sure, ha.
pick ups
Visvim
Always cool when a bro hooks it up. I pretty much thought it was just a simple corduroy daypack/carrier like an Eastpak and nothing much. Boy was i glad to be wrong when i saw the laptop compartment and the details of pockets, accessing zips and of course the knitted wool-bottom. Hiroki was already practicing Tet's message of "putting things where they belong" couple years back, haha. Can't wait to use it in the next few weeks
KC even threw in an old skool Supreme "Air Flight" wings pin, ha. Thanks!
Supreme NBHD
Wonders of ebay still abound when you can actually get something brand new for less than retail shipped. And nope, i ain;t gonna wear the bill flat, its baseball slugger style for me, :)
*
back in green
Final duty call - gonna be offline over the next 2 weeks. Some say burden, i call it a paid vacation, heh heh. It'll be awesome catching up the good ol' times yet again with the buds.
*******
drops
Futura Lab messenger
Look for the pointmen to make an uprising ths season, both for FuLabs and Stussy. In the meantime, check out these 4 renditions for the messenger and wallet
And some funny squiggles from Mr McGurr
2nd pic shows the sweatshirt collab with Dickies...hmmm
*
Number Nine
More rockstar mosaics...mmm lovely, need to get 'em. Can you recognise who they are? :)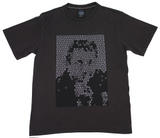 *
Visvim Soph
Damn, these are turning out to be nicer than i thought...clean and simple lines
Oh man, my wallet's gonna suffer
*******
RANDOMZ
devilish Miranda Kerr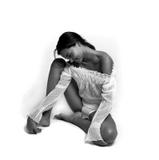 see y'all in a bit. be safe!