chillout with your shorts out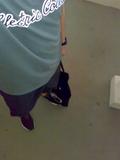 Pulled out some vintage to meet with the OG's aka old fogeys
electric cottage*mj belt(no vis)*visvim eiger sanction*casio fragment*nike woven
Its always chill out time when meeting with headz. Met up with Kev/
uparmoured
and Sahlan/
S78
on an afternoon where us 3 miraculously managed to be in the same country at the same time. Seeing as how over the past couple of weeks we were all in each others' places of residence and didn't meet up, its definitely a rare occassion haha. S78 did the usual round of mail-drop pickup and even managed to do a little shopping-trolley-rally-derby round Orchard Road (how many of you guys ever seen a dude push 5 grand of proddy around in a trolley on a busy street?) hahaha
*
pick up
Number(N)ine houndstooth slip-on
Nothing's wrong with the 1st pic, just a closeup of the embossed shoebox...pretty stoked to haul this steal in. Leather lining y'all! word
Viktor & Rolf
shirt
Can;t seem to find the right flash to capture the white-on-white print on the shirt-front. Slim-fit, simple clean-cut goodness from the Dutch boys. I might gt used to their work...
*
drop
Nike vintage dunks
Releasing as we speak, with a new colorway every week, just like old times.
I adored the vintage running series, and i thought i'd love this as well...but if you look at the close up pics (avail on every other hype site), all the "distress" is the same on every shoe/model (the heel wear, ollie flip etc), and thats pretty sad. Couldn;t nike have given the factory worker "freedom of expression" to work his creative magic? I don't know man, verdict is still out for me, prolly gotta see it in person to decide. Who knows, i might be really lured in by the yellowed soles, stained laces and all =)
pics via sneakernews
*******
RANDOMZ
Bar Rafaeli - Arena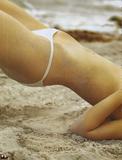 this babe is HOT!
laters!