SIN/JFK/SIN
About the loveliest of things to see above cloud level is...of course, the clouds. Philosophically, it can make you seem so tiny in the whole scheme of things in the world. Simplistically, they're just so fluffy and puurty...ahem
But of course, not many will even realise the presence of nice things outside of the airplane when you're distracted by the lovelies in biz & first class
Perks of the job: upgrades! heh heh
Kick off the Skynards (no visuals), pop in a vid (i swear, i ran through the whole gamut of vids on offer and then some throughout my journey...thank god for the Panasonic-enhanced entertainment system), bring on some hearty breakfast and i won't even notice i'm 20,000ft in the air. Sorry for the blurry and probably not too flattering foodie pics, i was too busy stuffing my face and getting high on wine and whiskey
So after clocking close to 23hours (including a stopover reprieve in Frankfurt), i'm on american soil. You won't believe it, but it was straight to business (work, not shopping!) NewYorkers call it a little chilly, but its face-plastering freezing to me when the winds drive through even though it's 7degrees Celcius. Point to note: leave the cottons at home, get a wool/tweed suit. damn!
Managed to clock a little look-see mileage during nightfall (hey i deserve it for working till dark!).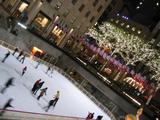 Seen it too many times on films centered in NYC, just gotta enjoy the sights at Rockefeller Plaza. You get the Chistmassy feeling just looking at the people skating. And you;d think with all the years of sneaker queueing you'd seen it all, but never have i seen mini-skirted chicks camp out in freezing cold...but its
Cavalli @ H&M
, i can't really blame them. I'd forgotten all about the release...thought there was only 1 big drop in town (more on that later)
Random window shopping through 5th Ave, Broadway and Times Square certainly brought out the wide-eyed tourist look outta me
Strolled by these curious plants at
Scott's Flowers
. I'm not much of a botanists nor appreciator of flora, but i just think those "ball-like" plants look cute and interesting.
All the walking sure makes you hungry. Thank god for the nice peeps at
Big Bowl Noodles
who let us in after 10pm. Nothing keeps warm like a hot bowl of soup. I had the roast pork and dumpling noodles while my buddy had stir fried beef noodles, and i dare say, its value for money, esp in midtown, and pretty much authentic Chinese (chef and staff are mostly from GuangZhou China)
And while the cheesy fortune cookies does nothing to erase stereotyping of Chinese and Asians, i do get the kick out of it anyways. But i have absolutely no idea what it was trying to tell me (transmuting???) What I do beieve though is the Chinese (in America at least) have transcended into Japanese Haiku...hahahha
Back at the hotel room, i was really too tired for anything else other than to wash up and get some much needed shut eye. Script-writers' "pens-down" strike have affected the late night talkshows etc, and ESPN was getting draggy (but damn, the Garnet-Celtics are rockin'). Just when i was tempted to put on the pay-porn, the remote went dead on me. So i guess Jenna has to wait (at least i don't have to pay for porn back home)
~*~
Day 2
Rose up bright and early for some breakfast at Macca's
Heaters in the room got me thinking the hellweek sweat would be enough. Nope.
Had to throw on the jacket before i'm good-to-go. Them Daybreaks are clocking some serious pavement mileage today.
Headed past Rockefeller again and damn, ice skaters are already streaming in. Best way to see any city is definitely by walking. It was also nice to see the business-like side of Manhattan...and those cute chicks taking their cute little pooches for morning walks [damn, why don't we have any of those (l)asses in SG?]
The Line up
Ah, the line at Lafayette St. I seriously didn't think i'd have a chance, but thought "heck, i'm in NYC anyway, and i'd roll by to check it out." Dayum, reached Lafayette about 1pm and kids were either jostling for position or huddling to get warm (more the former). "VIP"s were already strolling out and flashing their 4pairs, either in the car boot or on their feet, trying to antagonize the kids in line who had camped out the previous nite. I simply rolled to the end of the line and waited while it slowly snaked through. Much props for NYPD to put up barricades, though i'd have preferred them to be out patrolling and keeping the rest of NYC safe than be bothered by 200+ kids. Anyhow, also spotted some high-rollers palming stacks of bills (from a small handbag, how pimp is that?) to their "crew" in line to purchase "stock", no doubt for HK, TW, JP and even SG.
Later on, even the folks from
FlightClub
were rolling by in their beemers trying to get kids to buy off some stock to sell it on the same day. 'Preme staff were pretty chuffed to say the least, ha. Cross-street rivalry perhaps? heh heh
Shots of the Gonz mural and proddy rack.
NYPost
came by for a supposed "scoop". Took a lot of pics (but none came out, maybe in print? anyone got a copy?) but we were pretty cheesed off by the journo in a leopard print dress (wha?). Did she just get sober from the Cavalli party or something? Its not exactly the dresscode du jour around 274 Lafayette!
Shots of the loot of the day
Fire-red Trainer TWII's and more red selvedge (did i mention how much i love red this season?) from Uniqlo
Sighs, sadly, i had to hot-foot it outta town with a plane to catch. I guess its still a fruitful trip for the sneakerhead in me. Gotta return soon for the rest of Soho and New York! :)