distant connections
Friends really do come from all places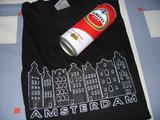 Met up with my Dutch ex-colleague couple days ago and he brings me gifts! haha Yea, i know you can get
Amstel
beer at most supermarts, but hey at least he was cool enough to lug it back from Amsterdam coz he thought we should meet up for a drink and chat when he drops by back in SG.
He's gonna stay a while more before returning back to the wintry weather of Amersfoort next month. Bet you there'll be more drinking to come, ha
*******
Uniqlo Paper No3
Couple of pics from the in-house mag
Icy cool looks for the chic(k)
Photo-works are crisp...i need some blazers and casual suits
Those soft cashmere sweats are lovely and on sale. I absolutely hate the fact that i'll never wear puffy winter jackets in SG...unless i work in a frozen foods packing industry... (nice plaids too)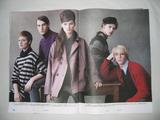 Preppy looks for
London's opening
*
On a similar note,
MUJI
has just
opened in SOHO, NYC
.
455 Broadway | New York, NY 10013
No more shopping from the MOMA store for 'Yorkers! yay
*******
Wha? - ugh
Sometimes, a designer tries (or does not try) too hard
In what is the most ghastly rendition of
houndstooth
on footwear so far, this collab footwear with AnotherEdition does not know whether to be a classic 574 with a Scottish-feel or
an UGG
...resulting only to create "UGH" reactions and an entry for ugly shoe of the year award
*
Sneakernews
Above pic/info via
SneakerNews dot com
. While not the best subsequent link after that ugg-ly news, be sure to check out
Yu-Ming's
new venture. Well, "new" is relative, since i've only just discovered it not too long ago. I've been pretty slowly creepin' out of the loop, but its nice to see someone from the original group of sneaker/streetwear crew on the up. Originating from the
Kicksfinder site
, YM brings the news as well as helps you source for 'em on the 'bay or the interwebs.
Go check the site out and drop him a line
*******
RANDOMZ
pics from Rihanna concert Oct30
one word: tight
Victoria's Secret Runway Show
(you know its gonna be a cornucopia of images, so go source them all on yer own!)
Best X'MAS tree...
ever!
. Heidi still rockin' it
laters