Camping season


Camping is a frequent occurance during holiday season. In streetwear terms, it means every couple months when
Supreme
drops their footwear. Damn, i need the white...or red, or blue...argh, help!
*
AJ XX3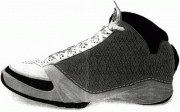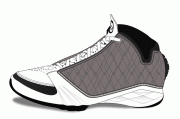 Loose lips sink ships? Probably. Thankfully theres no ships involved here. But i guess theres nothing Nike can do about leaked info, not when its concerning the rumored "last shoe" of the Air Jordan franchise. Don't worry, its just the last of the yearly footwear release since MJ's entry into NBA and hoops fame-dom 23 years ago. You'll still get your monthly deluge of "retro" J's dropping in more colors and flavors than Baskin Robbins.
However looking beyond that, this XX3 still has that something special, courtesy of Tinker's touch. Don't you love that hint of argyle-prep on the side panels (gotta be suede or vinyl)? And the luxurious tongue extension from the toe box, with (isn;t it obvious these days) laser etching/detailing probably from innovationKitchen.
So is it gonna be released in 23 stores in 23 countries, limited-produced in 230 pairs; with super-duper-hyperstrike (believe me, Nike may really name it that) edition having a production count of 23pairs made using materials from previous 22 pairs (possibly nicknamed
What The Air?
edition) that comes encased in a fully transparent blastproof suitcase with a 23-combination lock and opened with a solid-gold jumpman pendant(and you thought it was
just
a keychain didn't you)?
Expect Nike to really milk this
*
alphabet soup
Seems like i'm on a Nike-tip lately
Peep recent drop of Air Max Light, for what i can only understand as "alphabet edition" range of designs. Calling it Sesame Street would've been cool though. But anyways, could they designers have been following up with Jeremy Scott's thoughts from
2006
? Yep, those clothing designs dropped that long ago, Nike: you're late. And on the same tip, doesn't that black/yellow trippy dress with the peeking eyes look a little like Alife's halloween renditions? Or for that matter, the multi-colore epidemic that half of Westcoast is suffering from?
*
Fashion spread by Barnaby Barford - Wallpaper
Spotted in this month's Wallpaper, specially commissioned ceramic art by
Barnaby Barford
. check out the doll in Vuitton splendour!
*
Nike iD London
Believe it or not, theres nothing better i would love than a pair of monotone grey iD's, simply playing with the material texture and subtle laser detailing. That said, do check out the newly opened
London Nike iD store
for an appointment
Appointments are notoriously lengthy, given the number of celebs and you-know-who's who queue-cut.
For movers and shakers in the scene though, expect a nifty cube in the mail, with specially inscribed individual code to quote to NikeiD staff for a fast-track appointment!
Will somebody have pity on moi and grant me my grey sneaker wish? I'll promise to be nice for X'mas!
via creativereview uk
*
YOD - i think one blinked at me
making of the YOD
Creative Review also recently revealed the
birth of Yod
, a potato-headed critter that is
James Jarvis'
latest creation.
James also reveals 2 tees done for the Yod release, one that says "peace" and another "fuck off"...brill!
*
Stuff you do not need
Swarovski amethyst studded DJ headphones
For the annual
Fashion Rocks
event...this is hard-rock indeed! Just slightly over 2,000Euros for those interested
Christian Lacroix for Evian
I look forward to getting the holiday edition
Evian
bottles every year. But for this year's, there'll be a 2nd more exclusive range, designed by Lacroix! On the left is in the image of a woman in haute couture while the right is the pret-a-porter version with frosted lace
*******
RANDOMZ
Sony Walkman project ad
Forget the long-drawn debate of whether Sony copied Kozyndan's rabbit art for their Bravia ad, this one for Sony's new video MP3 player is just too cool. The tune is still ringing in my head!
Don't forget to check out the making-of video too!
Oh Anna!
Anna manages to outshine even Cartier
Hillary vamps it up for FHM
I'm a fan of her new image =D
laters!