"Planes Trains & Automobiles"...
sort of
NB 574 Transportation Series
Check out upcoming drop from
NB
: 3 574 models in a design theme to celebrate the logistical planning the brand takes to ensure the footwear gets delivered to distribution channels on time, by encompassing the different forms of transportation the footwear takes to reach its fans around the globe.
M574TSS (Sea)
The "Sea" design features a nautical charts in colorful presentation of burnt orange, rust red, evergreen, cerulean and navy. Now thats a whole mouthful of colors yet it doesn't clutter, so kudos to the designers. In fact, i like this design alot, just coz it reminds me so much of the Hunting World wallet color scheme (esp the nubuck toe box) in the days of old which featured map prints of the old world.
Tongue tab shows the anchor while heel tab has embroidery of a cargo ship.
M574TSA (Air)
Combining box brown with "
UPS Gold
" (isn't that a cool not to mention apt name to give?), the "Air" design features aviation charts on the upper and big N. The lather-work is pretty awesome for this pair, makes you wanna just oil the whole thing up.
Tongue tag is almost UPS-like with pilot wings, while heel tab shows an embroidery of a cargo plane in flight. Considering UPS is arguably the world's largest package delivery company, it won't be out of place as part of their uniform! ha
M574TSL (Land)
Road maps ply the upper, framed by road grey (suede), highway blue and interstate red. Yet another on-point color scheme, bringing back to the roots of NB as the footwear gets transported throughout the US of A from Boston MA.
Tongue tab logo shows the interstate signage and heel tab features a cargo container truck.
Only limited to 574 pairs worldwide, each pair will be individually numbered at the back of the tongue tab to guarantee distinctive authenticity. Its marked for launch on November 17, so remember to check with your local boutiques whether they're carrying them. For local fans, go check with the crew at
Limited Edition Vault
.
---
RANDOMZ
yesterday: ElectricCottage + Fenom + Visvim
Pearl Jam - Live at the Garden
Just to remember the NY trip, broke out the dvd on the
Garden concert.
Still amazing as hell - this is rock & roll
Lara by Terry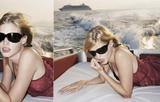 laters!