bored
Have been pretty bored at work...my mind keeps wandering. Perhaps it is time to move on to something more challenge?
I've been buying lots of cola from the 7-11 thats near my workplace after lunch everyday. Them beer-bottle lookalikes nearly caused a stir from my managers.. heh heh, who must have thought i was drinking on the job.
yes, that post-it-ridden screen on a messy table would be my work station. organized chaos, ya dig?
Popped over to my aunt's place for a house-warming session. Lots of yummy food for sure, but i love her dog! He is so huge for a 1-half yr old(!), looks just like a teddy bear! LOL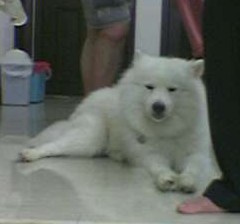 *******
Blimey...Armani x Mizuno???
Interesting to say the least, but i don't think these will light up the hype world as much as the Stella x adidas or even Kim Jones x Umbro joints.
pics via Freshness
*******
Stussy x Studio Voice!!!
nice photo-pic detailing (you just know how much i love them). Especially the retro-stylin' back print! Lots of Stussy drops lately, this here is one of the better ones
*******
Just another rich kid
White-hot summer sale
from the glam-rock meisters! Love the winged skulls
*******
Winged shaped pavillions
Who would've thunk??
Bolt of inspiration and sheer genius from Michael Jantzen
*******
UNKLE
Ever wondered if the
never never land
album art was simply computer-generated? (which, doubting the great Fu-master is blasphemous by the way). In any case, be in awe and kow-tow to
Sir Lenny's
handi-craft in this
you-tube video