eggcitement
happy easter! =)
Popped out for a luxurious lunch at Tatsuya's yesterday...well, theres not much to be said except when the waitress says the fish just arrived in the morn, she was damn right. Probably some of the most lovely sashimi i've tasted and it ain't too pricey as well. yum!
ape n.e.r.d|nbhd|camo sta
beastly
today, but hey at least i was vintage! (thx Dave for the T)
*
i-D
nice little theme of i-D's guide to life
Couple posts way back, i'd said
Rinko's
the next big thing...step aside Devon, king Karl's got a new muse!
What a lovely photoshoot...and the babe sure has good sartorial sense
~*~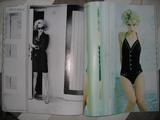 ~*~
and of course the rare interview with the reason for the current green hype all over ebay
*******
new drops
RSNT
RSNT ups the camo ante in time for spring/summer "the saddest thing in life is wasted talent"...hmm
*
FCRB
while FCRB presents a pretty cool new graphic...less of the club-wear, and more of a new "fcrb-society"
*
G1950
I love the plaid cutout of this Gallery1950 shirt...more please!
*
atmos drops
new NB574J set in typical atmos technicolor
*
and a very untypical-atmos, yet very-Jap white G-Shock
*
Visvim MMJ Logan Deck Mid
Took a 2nd look at this pair, and its really growing on me.
*
Baracuta Ben Sherman Harrington
I know alot of purists hate this but will leave you to decide
I just can't stand the print on the inside...urgh
Limited to 1000 pieces of 3 colorways, and only 400 available in the UK,
get them here
*
Sergio Rossi
Making the rounds on fash mags/periodicals/editorial faves list is this
Sergio Rossi
creation, looking like paint dripping from heel to toe
Could Sergio have been inspired by custom sneakers? LOL
*
Ape Sta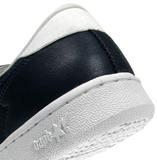 I like the preppy style of this pair. Suede heel tab and clean cut style is perfect
*
NewBalance 576 canvas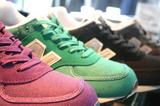 Lots of folks had good things to say about the 576 canvas during the exhibition, here's your chance. Grab em at
KnowItNothing
personal fave: purple!!!
*
SBTG x Phu: "death from above"
After dropping teasers all week, local vinyl customizer
Phuek
finally drops the full skinny. Collaborating with
Mark/SBTG
on 2 designs, they are due for release next week
Drawing inspiration from warplane
nose art
, the duo trumps Nike, putting to shame the swoosh's previous
inane efforts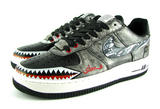 Death Seeker Air Force 1
Phantom Mirage Air Max 90
Nice work guys
*******
RANDOMZ
Janet's new album shots
mmm kinky... or it might be just me with too much Jap AV
*
Kate-hotness
and going commando
that' my grrrl!
*
speaking of commando...
Finally! production shots of Ray Parks as SnakeEyes!
I don;t care if it turns out corny, cheesy whatevs, Yo Joe!
*
Kristin Kreuk - Chun Li???
also heard on the rumor mill about Kristin being the new Chun Li...
if she still looks this hot, then OK!
*
Zock On
Is it?
Could it be?
Oh yes,
Jessica!
gotta admit, i love the Neptunes beat