MERRYXMAS&AHAPPYNEWYEAR
Just wanted to get that out real quick, hope everyone's having fun and being with their loved ones, and not stuck out in some
airports
/
railway stations
/stranded in
rain-soaked floods
...
It's been raining/drizzling/pouring non-stop like an incontinent patient that its getting real boring. Heck, the only way to go is with dark colored leathered sneaks, i won't even dare venture out with anything suede [waterproof-protected or not]
Best accesory to have this season: Umbrellas/brollies/goretex/parkas/windcheaters whatevs
*
flicks
Been having a Larry Clark marathon of sorts this weekend, what with all the dreary rain. What could be better than watching films of dark depressing dreary youths of my generation? Somehow, i get a different feel for the films as i watch them again couple years/months later. I was also able to compare among the 4 films and what they were each saying individually as well as collectively. 4 good flicks to catch, highly recommended!
*
pressies
After looking at the 2 pics up top, only have 1 question for ya:" so whatcha get for chrissy this year?" hahaha
Dude sure is pimpin' out his home. Versace Home collection? Man, i don't think there's many in this world who has that many other than the
Palazzo Versace Hotel
and probably Donatella herself. And Nigo's famed Star Wars collection [rumored top 3]? Even local toy-tycoon Eric Khoo can only say he is in the top 5, so you know Nigo is serious. The Kaws army is akin to what homeboy JohnnyLam[aka jlamkk] did for his Michael Lau shrine years ago, and the 12" vinyl diorama's even earlier, just much much bigger scale.
But on no MTV Cribs would you even see ET taking a ride with you in your own
elevator
.
*
fragment cinema
Getting into the winter mood this holiday season, check out these flicks for a short time only on
Traffic
Peep HF on 1 of his Fixie rides
*
How's this for "work"?
woo-wee!
Edison sets
a Guinness Record
with "father of bungee" AJ Hackett by jumping off the Macau Tower.
Read that he was paid a cool mill [HK dollars] for the publicity thingie.
Damn, i would've done it for much much lesser. But then of course, i'm not EDC...
*
Dom Perignon cooler by Marc Newson
does it come in red?
And if you're popping the bubbly this coming weekend and wanna make the right impression, check out Marc Newson's little gift for the season
Limited to 1000, costs a cool grand as well
*
ice's
And if you can't afford the chiller, try these cute old fashioned ice-cube chillers! The penguin-cubes [can i still call em that?] are way cute, but the
perfect-cube
? Excellent for nit-picking mathematician/engineering friends
Get them both at
SurLaTable
*
join red
You guys have probably seen this all over - in print ads, television spots, billboards, word of mouth etc,
Join Red
urges one and all to do their bit to eliminate Aids in Africa by buying products that pledges an amount to help women/children affected by AIDS/HIV in Africa.
When i first saw/heard about it, i thought "cool, we could really do with more charities". And you could not get better publicity with celebs plugging ads to get you to buy these collaborative products: Motorola cellphones, Amex cards, Armani watches, Converse hightops, iPods and Gap clothes.
Thing that bugs me is that the amount some of these companies donate to chraity from each purchase: usd$10 from EACH Motorola mobile, usd$10 from EACH iPod nano?!?!
Sure, any amount, no matter how small, goes a long way to help someone get medical or living supplies, but usd$10 from a product that costs from usd$100 or 200?
My take: They'd do better by linking to the charities and getting the funds directly to those in need [but then it would defeat the purpose of these companies joining this venture anyway]. Best bet: urge [ie: complain] the companies to donate more if you're already buying these products, else, just donate the ca$h!
*
Gemma Ward for Vuitton
Much as i love Scarlett, Gemma does a much lovelier job. Shot for the Vuitton Nomade Lockit S/S 2007 by Mert & Markus.
Scans from Vogue Germany
*
Sara Shahi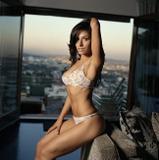 No i don't know who she is, but do a run on Wiki, believe it or not, she is a descendant of
Fateh Ali Shah Qahar
WTF?!
*
randomz
If the 1st vid up top didn't do it for you...this one will crack you up
JT is hilarious
Grindhouse!!!!
Its never too early to write down your x'mas wishlist:
Grindhouse
DVD will a
must-get
Wii for all - All for Wii!
Doing away with high tech SFX, celeb endorsements and blockbuster ads, this makes me want one even more!
mobile ad - beamvertising
Dutch gum "Sportlife" appeals to their niche market with this cool projector ad running along/around town. Looks cool and absolutely do-able = great ad!
Laters