vis.ual<->main-ten*ance
Monocle
continues to deliver the goods, but you don't need me to tell you that. Top drawer veritable writing with awesome visuals to boot. Heck, you can read up on 'em all you want, i'm still ain't done with the pics, ha. Looks can be deceiving...even thought it';d be a boring read regarding the battle of the melting piece of ice up top (hey, it brought Al the Nobel right?) on the train ride... but the monocle boys/girls surprise with some unexpected gems. All i'm saying is, ya wanna know more, get up from your PC, go run down to your latest bookstore and cop this already
Regular feature of Monocle - photo essay of Damascus. How powerful is that tower of tanks? Its a monument to the Lebanese civil war
Lovely espansive shots of Austria...damn i need some flannel, cargo's, boots, 40liter pack...
Fashion spread with theme of english teachers in Tokyo...none of whom look anything like our resident multi-hyphenated 5thD-TheList-militia-madhatter-
Engrish
-sensei D6/Sam... LOL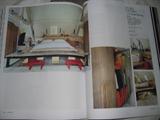 Sneaky peek at the home of Nicolas Graas (who revamped Hermes Luxembourg), designed by Lionel Jadot. Can you spot the orange Hermes boxes??
Of course, the quintessential icy shot of Greenland (ala Hiroki, no?). Bonus: how to spend the Saturday nite in =)
*
Garni @ K-I-N
The boys of
Know It Nothing
have done an excellent job of displaying these Garni gems. Don't waste their effort, go snap them off the shelves. Coz you know that dude beside you will!
F/W collection of various labels (PAM, MaidenNoir, TrainerSpotter etc) are also just in. "Just in" as of last week, so slow coach, if you've missed that size or model of a certain limited edition design, you best be buying some coffee from the store across the street and be nice to Eugene to put you on their mailing list.
its seriously moving fast, but made up that part about the coffee. i do owe ya one though, E! ha
*
RSNT+GDEH
i'm still HF-mad...ha, so enjoy the pics
GDEH industrious work pants and pinstripes
(i love stripes!)
*
off the left field
Some quirky stuff you don't need (all the better, cos i want 'em!)
Lego Star Wars watch
How could you not love them??? And it comes with mini-figure! Free! with the watch!!!
get here
Mario Luigi desktop golf putting
I don't eff-ing care, this is straight gone to my desktop!
I shouldn't even tell you
where to buy!
*******
vids
Visual EFX masters Nick & Warren for Johnnie Walker
"For those Who Know What To Look For"
featuring
Unkle
: Surrender All
The Observer
: From
ABBA
to
Zappa
Way way too cool ad, see if you can spot and name them all!!!
Nike Football: Leave Nothing
Shawn Merriman & Steven Jackson
Directed by Michael Mann
Music: "Promontory" by Trevor Jones from
Last of the Mohicans OST
('nuff said!)
turn on your speakers!
Last vid
High Powered Job
I only previously heard of it, but never seen it live, so this is pure amazing. I too love the feel of wind while riding out the chopper and work at heights, but this is out of my league
I ain't gonna complain about my job anymore...haha!
*******
RANDOMZ
Kate Moss - iD mag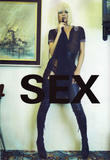 Marissa Miller for Vegas mag
laters!