All that glitters is not gold...Purple reign
Deafening Roar
Somethings you just keep on waiting and waiting but they just never turn up. Others just plonk on your lap effortlessly. One of the most elusive range of ape tee-prints ever is the Ape x
Unkle
. Featuring
Futura's
by-now much-too-familiar and iconic artwork for Unkle's Psyence Fiction LP, they were printed using reflective vinyl heavy ink-print. While artwork is not unlike the initial Surrender offerings, this one has the unique "deafening roar" and "worship" text type. I have the "Creepsta" print tee on ice, and i'm glad this print is finally in the collection. Last word in: its also in purple! yay HA
Speaking of
Surrender,
not only are the new tees in, so's the ever popular denim!
Available in slim and regular cuts, with raw and washed versions...peep too the inner skull patch
pic courtesy of Earn
new selvedge
And speaking of denim (i know, aren't i clever at linking things up?), picked up this Electric Cottage selvedge denim on the low (you already should know i'm HF-mad)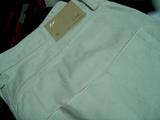 Unlike traditional (read:Levis) selvedge for the 5th pocket, the selvedge is on the right rear pocket. Sounds/looks familiar? why, its been replicated for the Fenom's of course.
*
cloud with Silver Lining
never been happier to see a black box
Sometimes you have no idea where good tidings and fortune may come from. This one came straight from Italy. I remember just dying to get my hands on a pair, any pair of Air Max 97s when they dropped. I was stoked on the looks and feel of the AM95's and there was nothing that came close to what the 97 had at the time.
The 97's took the reflective touch and fore-and-rear foot Air of the 95's to another level. For the 10th anniversary, Nike presents a silver-on-silver knock out that brings out those attributes, and then some
flash - no flash
bonded uppers and laser etched insoles - (left) Nike goddess (right) X marks the anniv
Featuring seamless bonds on the uppers that eliminates foot friction and intricate laser etched insoles, this pair is definitely in the "premium" class. Prob not too clear in the pic, but it comes with silver tipped laces as well
And of course a silver kit ain't complete without a reflective tee!
Much thanks to Matteo & Nike Italia -
Grazie!
*******
STW2D - Push the Button
I swear, for as long as i've been getting issues of
STW2D,
every copy has been opened by the postal office. They must think that for once they'll get one that says Playboy Germany or something. Thats sad. Yup, it means i can't get cheap German Playboy from ebay. Anyway, issue's theme centres around pushing the button, or the drive to start, move, innovate, get workin' etc
Peep the shots of hardworkin' shutterbug Florian Böhm:
You can't miss the fashion spreads of course
Loving the colors, shot's background are carpets! awesome
Streets of Europe -by Martijn van de Griendt and Willem Poelstra
Multi-tasking skate-pro-shop-owner-businessman Huf; Calligraffiti exhibit by Niels Meulman and Eric Haze
And one of the finest fashion-action style shoots yet
Lots more articles on other labels and happenings around the streetculture/music scene, as befits an industry mag. But reflecting much like what is going on at the moment, nothing too eye-catching. Just gotta sieve out the hits form the hype
*******
DROPS
staple
Check out couple of shots of the
Staple Designs
range at
TurntableLabs
. Weather-proof nylon tech shell for protection form the elements; and the simplistic 1975 denim, imo an on-point portrayal of label: a staple in any wardrobe
*
GDEH studded belt
Think i posted this a while back, but i still think its too 'good' not to report... ha
*
White Stripes x Lomography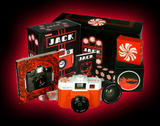 Jack does Holga while Meg hits Diana
Pretty cool collab i might add. But at
usd$180
a pop, i could easily get 3 normal Holga's and custom them in red, white black colorways with enough for fisheye lenses and film. But hey, if you're the uber-emo fan, this'll be great for those front-of-the-stage shots.
*******
The long walk - Fendi at Great Wall of China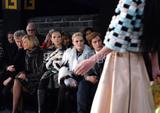 Terrific shots of the Fendi show at the Great Wall. King Karl outdoes himself (i can't recognise him w/o the fan!)
Spotted among the front row, Zhang Ziyi (lovely!) and Kate Boswort in Fendi creations
*
RANDOMZ
Caught the arrival of the
A380
Smoothest landing, shorter landing distance and quieter noise environment compared to any wide-body long haul passenger jets. The interior is spectacular, and pictures will not do them justice till you see 'em in the flesh. For now, just make do with a view from afar:
My gal loves the Cruz collection for
Mango
. But of course, Penelope's such a looker
Cameron looks smokin' hot...
Laters!