tick tock bleep bloop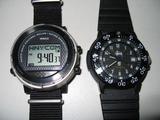 New mail drops. Stoked to finally get my hands on a
Seiko Wired H
, its the
Honeyee
issue. Simple concept of solar power with radio-wave synched time adjustment, dope!
Also got a nice little deal for the
Stussy
x
Luminox
. Tough little buggers they are, so i wasn't too worried with a pre-owned pair. Been more than satisfied with my trusted/banged up 2 G-shocks over the past 15years, guess i'll try out the Navy Seal Luminox for a change. Should work excellent during my duties at night around the tarmac
*
Levis x Warhol x Damien Hirst
Fashionistas' been abuzzed ever since Levis and Warhol estate announced that Britain's
enfant terrible
avant garde artist
Damien Hirst
will be designing a range of apparel for the denim label's Warhol artist series. Peep the first leaked pic of the collection that is due to be unvieled at the NYC Fashion Week. Looks like black Swarovski's are smokin' red hot this season (could the
Surr/Fragment Design
boys be in on it ahead of this?) Taking inspiration from his 99million dollar skull masterpiece
"For the love of God",
it appears to be black-on-black blingtastic denim. A pretty safe take if you remembered Hirst's previous dallyings with
formaldehyde
; but i bet lots of peeps will be waiting at the edges of their seats for the full range
*
Sole Obsession Part 3
Peeps in the asia region do drop by next month for the next installment of Sole Obsession. It'll be held at
KnowItNothing
, back home where it all began =)
Featuring upcoming samples and a focus on local customizations, pop by for a small gathering (free beer!)...
guys, if i can make it in time with a custom, can it be up for display? heh
*
sbtg be@rs
Speaking of local flavor, looks like
Mark's
getting his own
brick's!
via Guillotine
*
new canvas
I'm feeling this new release of canvas uptowns. Canvas upper with gumsoles are like peanut butter and jelly. Damn sure miss those canvas 1's from pre-hype-era. But these should be cool enough, as they feature the better-designed rolled seam edges and construction. Can someone hook me up with one? =)
*
cheeky (chicky) tees
Following the fan and runway hit of the designer series,
House of Holland
releases the model series: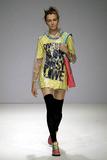 The words are a bit hard to catch on the models, so here's the "transcript":
FLICK YER BEAN FOR AGYNESS DEYN
WHAM BAM THANK YOU STAM
I'M A TOSSER FOR COCO ROCHA
MY FLIES ARE UNDONE LILY DONALDSON
MY LEGS ARE UNCROSSED GEORGIA FROST
FANCY A SCREW BEHATI PRINSLOO
GIVE US A BLOW DAISY LOWE
GIVE US A BACK HANDER RACHEL ALEXANDER
LET'S PLAY NAKED TWISTER LINDA EVANGELISTA (personal fave)
YOU WOULD IF YOU COULD CINDY CRAWFORD
I'LL SHOW YOU WHO'S BOSS KATE MOSS (fave #2)
I'VE GOT MORE THAN A HANDFUL FOR NAOMI CAMPBELL (very S&M)
And for those that like brand/hype promotion:
=)
---
Randomz
"I want you all over me"
That's an enticing invitation for sure, Gwen! Advertorial for her new fragrance
*
old skool new looks
For those
slightly
old enough to remember
Pepe
and
Jordache
jeans, way before cult denim existed, there are a couple of ongoing campaigns to revive the brands
Sienna Miller for Pepe Jeans
I love wet ladies...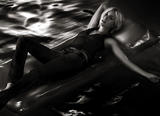 *
Heidi Klum for Jordache Jeans
Heidi is establishing her milf status for sure with these ads