betterleftunsaid
KenRock-UC*HNYCOM wired*lEvis 47*adidas
Work's beginning to settle in for me, and its gonna be busy in the coming months, but at least its a nice new experience for me dealing with coordination and management in a different environment. I've to use different methods of approach when my staff are of the older age group and different skill sets from what i've experienced previously. They obviously don't teach that in guide books for sure, lol, so i'll prob have to look up some industry vets for some sound management advice.
*
Surrender x UNKLE: War Stories
Spotted these prints for the
War Stories
album release. Not sure if they'll be
in store
anytime soon, but UK drop for now i guess. Info anyone?
*
New Drops
Visvim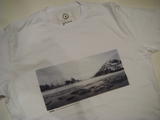 Spotted them pics from the usual spots. Shirts and tees are looking fine...but WTF is Hiroki doing to the beloved FBT?!
Speckled midsoles: what?! were juices running so dry they had to pilfer nike's "hybrid theory"?
Logo: no comment...i think i threw up a little looking at the logo. if this is what happens after the G-Line launch, i shudder at the thought of whats to come
~
E-cat ballistics been getting lots of hype-love lately...but dang, the thing's humongous. 2 Vis shoe boxes maybe? ha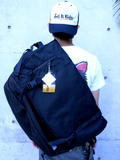 *
Porter x G1950 x American Lock
Speaking of messangers, G1950 is next in line to drop their own bike locks. Teamed with long-time partner Porter for the utilitarian Porter-black tone, they "roped" (pardon the pun) in
American Lock
for some professional safety
*
Resonate Goodenough
New tee with woven pocket detailing. I think i need me some pocket tees...
*******
Teasers
Sole Obsession 3
SoleObsession 3 is only next week! argh! Don't think i'll have time for the custom. But anywho, lots of customizers will be in full effect. Not to forget doorgifts, free beer, raffles, and tees of course, ha
*
toysontour
Looks like Sept1 will bring more visuals for the new installation as well... i can't wait!
*******
Sony Bravia Playdoh bunnies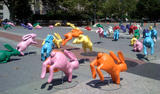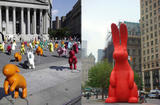 Sony has lined up the 3rd installation of
TV ads for Bravia
...by
unleashing Playdoh bunnies in NYC!
Ha! Peep more pics from the awesome flckr albums from the link.
Did anyone cop those bunnies after the shoot?! Can i have them?! Are they on ebay?? i'm going nutty over them! LOL
---
Randomz
J Alba at the carnival
Thank god for skinny jeans!!!
Hyori photoshoot
Theres been lots of comparison between Hyori and Alba during their joint commercial shoot...i couldn't care less, both lasses are beauts!
Hroyi - Anymotion
and if you're finding the script acted out in the MV a little cliched, the movie Honey (yep, starring Alba) adopted the moves
laters