NB ST33 part3: Fanzine
Last friday saw the release of the third instalment of the SuperTeam33 collection from
NB
. Sporting a
"fanzine"
theme, it is decidedly more interesting in the design underlay than its visual aspect. The publication has its origins from the American literary groups during the 19th century, where interest groups did the prints themselves to share among like-minded people. The idea of fan publications grew and exploded throughout Europe with punk and mod fanzines, offering a countercultural alternative to the established print media. This collection offers the same craftmanship and dedication put into the footwear as the traditional self-printed, photocopied and stapled fanzine copy.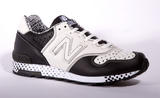 While the previous 2 ST33 themes explored the exotic colors and materials inspired by aquatic life, this European incarnation draws parallels from popular culture. On first impression, the colors do not stand out like the 1st edition "Clownfish Nemo" or "Butterfly Fish". But theres a reason for this: the full grain leather has been treated with
aniline
, a tribute to the original methods of Hektograph printing using aniline dyes. The leather remains rich and supple, truly soft to the touch - you have to feel and wear it in person to understand this. Indigo is also one of the most common color dyes used for fanzines (hence my bias toward that pair, ha) The shoes also feature punch perforations on the vamp, that when coupled with the printed dots on the midsole, are intended to symbolize the heaviliy inked dots of the "period" key from the oldstyle typewriters fanzine writers punch out on.
The inner liner and footbed feature prints of "do it yourself" in various languages and typefont. They illustrate the global concept of the nature of fanzines and the ST33 collection.
Gripes
While the overall concept of the collection seems sound, i stand with those who feel this is weakest of the 3 collections and their individual pairs released so far. As a collection concept, i think it is a good connection. NB classics fans have always been a different bunch compared to the mainstream schools of hype, its more about the heritage, the story, design and execution that pulls us in. In fact the concept of fanzines is great considering the current media-age of blogging and webzines.
IMO, what really is lacking is the execution. I'm not expecting
Roy Lichtenstein
dots on a midsole (which i did mention a month back. seriously it would be a cool "pop art" design pack to do, maybe a
MOMA
pack?) But for a shoe that wants to latch on to the DIY idea, why not incorporate a little element of customizing - stencils/scratch prints on the under-utilized heel counter or "Big N" for a personalized pair, wouldn't that be a good tribute to the NB fan? or special-dye/monogram print laces? or a separate material like crushed leather (possibly to sybolize the paper effect)etc
Not really asking for OTT bells & whistles like the other brands, but the top 10 NB collabs/designs have always been well thought-out stuff
Footnote
In case you haven't noticed, there hasn't been much "exclusive" NB news lately. Not that yours truly has been out of touch, but its the same for the rest of the hypedom. And its the way to go forward. Leaks have been hurting the efforts of marcomm for too long now. In fact, this ST33 release is prolly suffering from the impact of unauthorized release info. Too much too soon, and all you get is spam and disinterest. Done the right way with proper guidance, and you;ll get the right hit (case in point: Thomas I Punkt) I'm all for the new directives, but fret not about missing out, good things will always come to those who wait (and pay attention to details) Whenever i can, i'll let on on the latest developments for the faithful readers out there (yep, all 5 of you, lol)
---
days off
nbhd sweat, 45rpm denim, nb576 ma-1
Perhaps its the work nature, but finally being able to take a break from it all means i'm always itching to do something - an oxymoron eh? So i went shopping for new digs. Sadly i'm not made of money like the mates up on
TheList
, where DiorHomme, CDG, Soph suits are the de rigeur workwear, so i gotta be content with high streets sales rack instead, ha
PFF
Dropped by Mr A's for a lunch catch up. Been a while since we chatted at length, and its interesting that we both experienced changes as well. Saw these
PF Flyers
at the couch and thought they look pretty good, esp the ladis range. Still kinda niche in the local market, but i do think there is a possibility of good shelf space for them to the right eyes
dutch gift
Its always nice to know that good friendships can come out of working relations. Lots of people always say its impossible to have good friendships at work, due to the tensions and politics etc. I'm glad to have a bunch of great mates who offer their hand of friendship across thousands of miles. Big guy Max sent me these 2 typical Dutch treats, Hagels and Strropwaffels, as a memento. Sometimes it doesn't have to be expensive stuff, and i'm more than happy to receive them to remember him by. But theres more, he and others have extended invitations for me and the gf to visit, stay and tour with them in future, now thats friends!
*
N7 pintuck
New release by Nexus7 - pintuck shirts. Really looking spiffy...hmm, think those will look lovely at work, heh
---
Randomz
WWF billboard
Creative use of the sun to form part of the message
Check it out in action:
*
Zack Kim plays 2 guitars - at the same time
So i'm searching for vids of Simpsons on youtube and i come across this kid
Spectacularly dumb-founded at his tapping skills, he does quite a few awesome renditions, and like Nik, i'm amazed by his
Super Mario
. But my sentimental fave is the love theme from Cinema Paradiso:
Some may say its like piano playing, but its huge gap in difference between that and what he's doing. I doubt theres many out there that can do it like Zack!
*
Emma
I can't believe i've missed so many blockbusters this summer...managed to catch the Potter last week. Pretty ok i guess, but for those that have not, be sure to catch the moment where the cam captures Ginny looking at Harry (you won't regret it once you read Potter 7). But theres too little screen time for Emma, damn she's looking hot lately, and i do think she's legal now, so heres a hollywood peek: