This and that
The Beatles tee is classic and almost iconic, much like the Rolling Stones "Tongue" imagery. It also spawned a whole range of similar designs of music origins. When done right, its a proclamation of iconography and a respective nod to the Fab Four...
Dipset and Wu Tang Clan manifest tees from
Turntable Lab
. Its not a direct link to the tees, i'd prefer you guys click thru' the treasure trove of stuffs at the Lab like i do *wink
And with the World Cup in Germany coming up real quick, how could you miss this?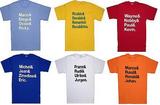 Ultras tees available from the boyz at
Drooghi
.
*******
kookies lets in on a new air woven. i can't wait
*******
Quirky design from
Plus Minus
. A Flash USB memory drive that inflates to let you know how much more data it can hold!
*******
Something for dads like Nik, baby cufflinks!
from
Fancy jewels
*******
Indie tee designers are plenty these days, it can only mean good things for consumers. Check out these cute gems from the London outfit
Smut
sssmokin'
*******
Japanese designer Usugrow works with Famous Stars and Straps to give this sick tee. (i'm a sucka for skull tees, and these are da bomb)
Its highly rare to find Usugrow stuff, much less at such affordable prices, so
go get them