Catch the FLU
Just when you thought the flu epidemic wasn't bad enough for your health, here's something to hurt your wallets as well...
Levi's Japan
dropped the "Levis FLU" range to latch on to the upcoming world cup and street soccer fever..(get it? flu -> fever?) Well, i can't really say that's what it's suppose to mean (since i'm extrememly limited in my Kanji anyways), but i'm guessing it stands for the "fluidity" and the "fever" that the word street soccer brings. The concept is for dudes(and gals and kids) to live and breathe soccer everywhere they go...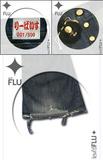 The above pair is designed for the so-fashionable-till-it-hurts, Japan's favorite footballing son
Hidetoshi Nakata.
Comes with a gold button fly too. cute.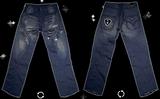 The mainline for FLU, with details like soft vintage wash and engineered seams, cotton/polyester mix to suit the body movement; where the denim has added wax patches, probably for close control during the ball juggling. Funny thing is, the more i look at the thermal shirts and jersey, they seem to remind me more of SOPH.net's range more than anything. And if you check out the video "motion" at
tab device
, you'll recognize the insane skillz displayed is not unlike the Nike Brazil "airport" and "freestyle" ads. Maybe it's due to the regular "pow-wow" lunch meetings that Jeff Staple talks about, involving the important head honchos of today's fashion style...
by the way, the young kid in the video is insanely talented. Respekt
*******
naive's shop
Shop by "thisisnaive
is reopened! What can i say except...jaw-droppingly good! New accessories and vintage finds, as well as more items to arrive from MilkFed. And if you love that pink rope necklace up top? Go peep
Mosaic
for some more niceties!
*******
Stuff i'm liking:
W)taps x Vans (hit me up if anyone is able to hook up? thks!)
PE goodness from SupremeNYC
This just popped into my head as i do the ebay rounds...so peeps in NYC call 1 or 2 sticks of ciggies "loosies" eh? hmm... over here, we call em "the lone dragon" in one of our dialects. Y'know, when you drag on em and puff the dragon...Ain't it cool?