Fash mash hash
Is it me, or has this blog become a weekly update? yeah, its definitely me(duh)
Really trying me best to update it as regular as poss...but y'all know me *smirks
Pretty arty-farty update today, so lets go:
Fashion fest is almost over, if u haven't gone down to the
Singapore Tyler Print Institute
to catch the works and designs of local-master-sneaker-customiser(thats a mouthful) SBTG, u got till 3rd April.
Heres some pics courtesy of ryanstyle and impheatus from frontallabs forum
last pic shows a collab work between Methamphibian and SBTG(a rare occurance if u know these masters)


This guy makes me feel so stupid....he's seriously a genius in my books
Go check out Jared Tarbell's
Complexification
and be prepared to be blown away by his works. Get this: all those beautiful works of art were done by computer programming...didn't i say he's a genius?
Get this cute shower curtain by Dalek before its gone (naked babe behind curtain not included)
Get it at
ArtBrat.com
More niceties from graphic artists...Ryan McGinness finally makes this tee for dudes
Lovely message, LOL
Get it at
krudmart.com
adidas finally drops the bomb on the final #35 shoe for their 35th anniversary...its a beaut
Ultra premium leather uppers and soles, specialized suitcase, cleaning kit(yeah, like you're ever gonna wear them), gold trimmings...the whole nine-yards.
And if you think all it takes is money to win it, adidas wants u to hunt it down, know some trivia, get a limited ticket, hope and pray u get lucky, and then maybe, just maybe u get a chance to be one of 35 people in the world to own it. Simple, really
Go get more info at
superstar35.com
Oh one more thing, its only available to folks in Berlin, London, NYC, LA, HongKong.
what, no love for Tokyo heads?...oh well, they got some many nice stuff there already anyways... hehe
logged at 11.47am Apr 2 2005
Part Duex
The weekend has turned into a stay-home non-event...so u lucky kids get me for company once again
"The secret to creativity is knowing how to hide your sources" Einstein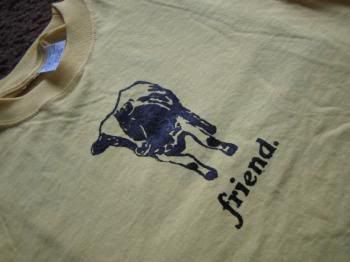 I've been saying this for the longest time already...i seriously need to get starting on printing my own tees. Get it off your chest with this
simple tutorial
by craftgrrl.
Speaking of procrastinating, i'm still mulling about getting that 1st Apple....
Reading this article just makes me thirst that little bit more
Since this blog is full of randomness(and i know a great majority of u guys out love it like that...i hope)...check out
the Gloo
for beautiful random snaps
Yesterday midnite(or does it count as this morning?) saw the release of the Star Wars Ep 3 toys. The news reports have labelled them as collectables as its the last of the series.... Yeah right. You and i know that Mr Lucas and Hasbro ain't gonna let the hype die down...not a chance, nada, nyet, zilch, kaput....
In related news, to coincide with the launch of Ep 3 toy set, Hasbro will be selling empty boxes...
read more here
oh, u think it can't get any worse?
image via theapt
The M&Ms are cute as hell and def will taste great(Homer Simpson moment: mmm, cho-co-lates..)...but i cringe at the marketing strategy....
check it here
And it won't be complete without a full-on assault in NYC will it?
comes complete with R2D2!! whoa!