GDEH|45RPM|Gravis/GDEH|Casio/EC
Capped off a super-taxing week by just chillin' with the gf over breakfast in town.
Broke out the Gravis Rival and paired them with raw dem's as i've always wanted. Those Gravis folks sure know how to make a comfy pair, i felt like padding around in bedroom slippers, haha
Been a lil' down in the dumps the past week with work-related issues and all and needed the equalizer. I just can't understand how de-sensitized/de-humanized people can be once they reach higher levels of management. Is that how they need to be to get to that level? or has it become a side-effect to the fat paycheck? whatever happened to responsibility and morality? oh well, i doubt morality ever factors an iota for these so-called "upper-echelons". IMO, they are not anywhere near top level of human lifeform no matter how power/wallet/influential-rich they may be
MAILCALL
Picked up the Hideout print for the fun of it, if not just to complete the set (with the supreme tee earlier). I like the pseudo-"roughed up" imagery with studs and patches for the motorbike-punk feel. Also managed to snag a pretty hard to find print of the Supreme spaceman. I think the cracking up adds to the beauty, no? Released during the same time as the Ari Marcopoulos "safety film" prints, this reminded me very much of a similar vintage "moon-man" print by Stussy...sighs, nostalgia breaks wallets, LOL
---
DROPZ
Its been a while since i'd gone sneaker-crazy for my posts, so allow me to indulge a little
New Balance A16 Woven Suede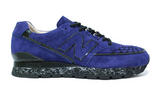 These are touch n go for lots of peeps, either you love or hate it. Personally, i'm glad the designers were willing to incorporate the brothel creeper (whaddya expect, the A16 line is from the Jap-division). I think the detailing is amazing, and i adore the blue suede. Pity about the outsole though, while it is chunky enough, they shouldn't taper it in at the heel cap...and lose the speckled-"mcflurry"-print already, its so '07!
New Balance 1700 Nonnative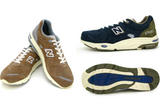 I've always adored the 1700, the form and fit is superior to the more popular 1500 (with a full-length sole cushioning and neat forefoot panel cutting). So while hype peeps and store collabs hankered for the 1500, i wanted the 1700 version more. Nonnative is always on-point with their color-palette and A/W season usually brings out their expertise on understated cool. Blue/olive is divine, but the brown/grey is so perfect for chinos/smart-casual its ridiculous
New Balance 997.5 United Arrows "Beauty&Youth"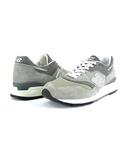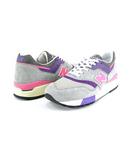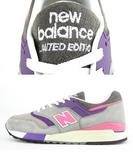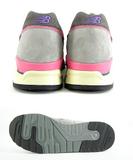 In case you hadn't notice by now, no one retro's NB like the folks from Japan. Sure, you may say its just mix-n-match ala mongolian-buffet-nikeID style, but they can also step up a notch by upgrading the design. As in this case, by combining the 997 and 998's tech-specs. And that grey/purple/pink palette, i can safely say not many under the age of 30 will understand the reference to 70s and early 80s running models like the 420 and 870 or even the Nike Waffle/LDV runners. Trust the usual suspects of sartorial-cool Nonnative and UnitedArrows to know what's good
Nike Air Zoom Macropus
Back when HF introduced the
Macropus
under the hTM moniker, it was to provide a relook into the street staple of the
Wallabee chukka
. Nike has revamped the shoe with a tumbled-suede-like upper, that looks just like they borrowed from Hiroki's Visvim Paik Mammoth:
Visvim Logan SOPH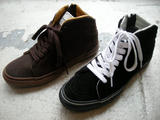 (L)Canvas and Calf Suede (R)Calf Suede
Collab for SOPH's 10th anniversary, these Logans are sick. You know how luxurious feel on the calf suede pair is gonna be...dayum
Resonate Cause Saddlebags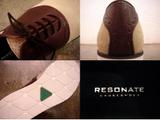 OKOK, last sneaker post for today. I love the classic saddlebag leather panels of this pair! sighs, so many shoes, so little time
Neighborhood NGAP Porter pants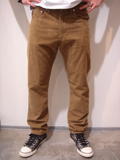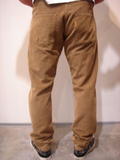 These cords will be so awesome with those Vis Logans...pure aesthetic and brand synergy (LOL)
MasterMind Theater8 Peanuts
MMJ seldom feature in my posts, but when its vintage
Charles Schulz
, i know i can't resist. Been dying to get my hands (paws) on those vintage Champion reverseweave college football sweats with Peanuts prints for eternity, but i can never find one in my size or wearable-enough condition. Now with this full MMJ release of tees/raglans/hoodie sweats/denim, i doubt i can find one in wallet-friendly condition, hahhahaa. I know what i'm wishing for this xmas....
GDEH slipmats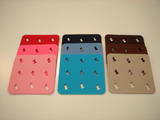 So they're not clothes nor footwear, but i think they're a lovely addition to any living area. Essetially drink coasters, they sport dot-punch "g" logos all over. Available in multiple fabrics and colors. Timed release with new GDEH logo mug
Keith Haring mug
Speaking of cups, peep these nice Haring prints. Dropped at
Colette
---
RANDOMZ
The Shadow drops by Japan...
Janiston does GQ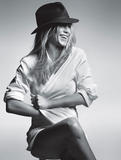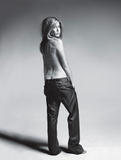 xmas came early (among other things). Sure i know lotsa folks don't feel the same for Jenn, but hey, i appreciate a good bod over age anytime!
thats about it for now...until another time