28
Seems like ages since i last took a short break from work, and boy, do i enjoy the carefree status. Met up with the rest of the boys for lunch and cuppa (yes, as luck would have it, we even managed to synchro pilots' flight schedules, ha)

GDEH|levisLVC|Visvim Cordu|Undercoverism|wiredH
Over multiple servings of
dimsum
, lengthy conversations over starbucks mocha latte refills and friendly ribbing jibes, it just seemed as though we were still back in the barracks of the good ol' days.
29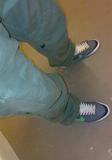 GDEH Supreme|W)taps BDU|Stussy Blazer
Blazin' hot weather out in town. Really didn't want to venture out, but the GF had to pick up a dinner dress, oh well. busy busy serious ka-ching's out in town lately, financial crisis or not. Spotted so many folks toting lux label shopping bags, its almost ridiculous (maybe they were buying only the lovely paperbags?) All the shops need to do is slap a "discount" sticker on the price tag, and the droves will come (who cares if you've just round-down a dollar, a discount's a discount, dammit!)
30

CDG homme|Visvim EigerSanction|Gucci
Still warm and humid (bet northern hemi folks are envious): out to lunch
MAILCALL
Couple of knickknacks: Untold key-ring for the car, Supreme MasterLock and Maglite
Beast-stylez: Been fiending for the Headporter BlackBeauty waist pouch for a longtime and no hate for the Clot, pls, i just can't resist a babe tee, HB or not LOL!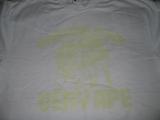 UK Pick ups courtesy of
seenmy
: vintage DS Very Ape "invasion team" glow-in-dark print and ACRonym cargo pants. Just love the details and tech on the pants, you won't see it till you wear it. From the hidden waistband adjustment to the discreet cargo pockets(HF-style), to the hem-line fabric to prevent ride-ups...its well thought out alrite.
Visvim Fluxus 01C2: hmm, so what hasn't been said about the '01? Can't miss with the 501-cut, the button-fly and of course the selvedge. Legend has it HN wore his pair day-in and day-out for 2years.
Wabi-Sabi
at its finest: Leather-beaten, stone-washed, fine-hige, distressed seams and slubby details aside, I think i'll sleep in this without hesitation.
---
RANDOMZ
Just love these shots from Monocle
***
Dita for Playboy Dec08
work-safest 3 pics i could post...hahaha
***
Oh-Yes-Jess!
J-Alba does Campari: uber-milf + liquor = schwing!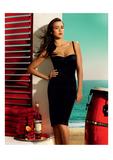 yumz!
laters y'all!