Just clearing up some random clutter on the cache and links...
RSNT x BC
some Resonate basic neccessities with BaseControl... sorta like the old GDEHUK "plus" prints, extended to boxers :)
UniformExperiment
more basic-wear from Kiyonaga's smart-casual experiment outfit
GNF
some Gallery1950 new prints...like the colors!
FCRB
simple FCRB print, reminds me of stencil-artwork
wtaps
speaking of stencils... new BullInk prints...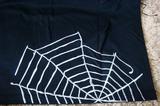 and college-font front with a little WestCoast trip
---
STW2D
straight up legend Natas
upcoming Dickies Eu edition (RRTHQ's on the money) and Bobbito!
of course nice photo shoot (not so nice camera flash, i know)
tsk tsk
Spotted by the eagle-eyed Trooper within minutes of getting hands on this issue
My fave Camacho with fangs?!
How could "brilliant and innovative design collective" UpperPlayground miss this??
Oh man, i don't even know where to begin with this review of
domestic
ripoffs of
KISS-style troopers
ala BillMcMullen/SwishNYC, even fellow countrymen BRKNHM's dunk sole! heck they seem to have just raided the digitalgravel catalog!
---
I never really like to post celebs in streetgear
and i can speak for more than a couple of folks who dislike JM's penchant of buying into his own hype (but then again, it could be jealousy coz he's money enough to own more than several vintage rare Roleys... but more importantly, he gets Janniston's bubble butt on tap 24/7)
Spotted in hype-kidz' wet dream Kaws AF1
mmm... ACR dopeness... wonder if he gets em at premium tier?
and of course, rocking the Visvim freebies from HN with gusto. i do like the Foleys though...anyone pass me a pair?
---
RANDOMZ
J-Alba
ooh mama
Rihanna in Milan
Speaking of Rihanna...new single Disturbia
Link
...bum-bum-bee-dum bum-bum-bee-dum-bum...
Jessica overload!!!
Link
awesome animation and tunes!
Link
peep more from
contributor
laters y'all