you complete me...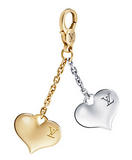 Gosh, this LV charm is too cute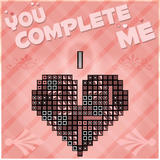 A subdued V-day last week, pretty busy with work and all. Was great meeting up with a couple of friends and work relations as well. Sure brought back memories of the days of part-time work and slogging to get some moolah to spend for the weekends, haha.
Monkton's thoughts...
Was wandering around the streets of Melbourne (last month) lost in my own thoughts when i saw this card in a small little card/craft shop. I don't know how it is but it just so happens to be related to the
someone
i was thinking of, and it made me miss her more. I guess this is what fate means, so i def knew i had to get it. Sent it for Thursday, and i guess she should've gotten it, hope she appreciated it...wish she'd call though...
*
45RPM Badou R distressed denim
I posted my pair of Sorahiko's a while back, but i think i left out this precious pair that's been in my wardrobe for some time.
the Badou R series of denim isn't too ex, but having a distressed pair is certainly tough hunting work. The denim masters will do up a pair personally if you bring 'em to the stores. But seeing as how i'm not near Tokyo, this pair is as close as it gets. One of the best "whiskering" i've seen yet
Its more of a rocker-look i'm going for, coz its a rather skinny cut. But how i just love the details, check out the buttons! ha
*
Stussy XXV x Birkenstock Tatami
Now i've had plenty of great ebay steals for some time. Its been tough hunting them down. But this one is truly ranks in my top 3 best ebay steals
Released in Japan as part of Stussy's year-long XXV anniversary celebrations, this collab featured Birkenstock's Tatami sandals, done up with Shawn Stussy's vintage-style rasta artwork. For those of us Stussy-headz, this was one elusive collab to add to the collection. Peep the shoe bag in custom artwork as well!
There wasn't a typo on the auction, but i guess the sizing put off a couple of potential bidders. Those years of sniping sure sharpened the gut instinct, ha! Last pic shows XXV woven tag detailing. Ain;t too worried about the bright colorway - just in time for Summer madness! woohoo!
*******
adidas Stella McCartney
Always been a fan of Stella's range for adidas. The
new 08 season
is up!
And as much i love the apparel, i really like the accessories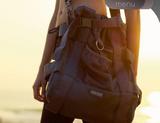 Tote bag is pretty utilitarian while the running bag looks like a fun sling pouch to own. Anyone with some nice hookups on them?
*******
RANDOMZ
she is Vikki Blows - she is in lingerie. 'nuff said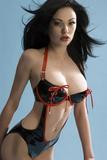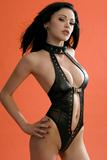 damn
*
Sports Illustrated Swimsuit issue is out!
Marisa Miller
Marisa in bodypaint (best innovation ever)
Bar Rafaeli shows why Leo is clinging on to her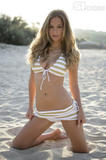 Jessica Gomes in body paint...hot damn!
*
last set...Hayden shows us why she's our fave cheerleader...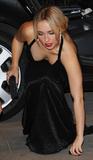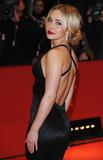 phew, have a nice week ahead!