of interweb and daydreams
Great thing about long weekend holidays is the hours of staring into empty space and just daydreaming. And of course, interspersed with lots and lots of great home cooked food and delish snacks. In fact i don't think i ate a proper meal for the past 2 days, just lots and lots of greasy, sweet, sour, spicy finger snacks and washed down with soda/beer/wine (not neccessarily in that order or in combi) LOL
Not being at work also means i'm mostly stuck with my head staring into my LCD monitor during any available free time, gathering all the Edison pics (way to go dude!) or just enjoy reading the random news/info/stuff allover the interwebs...
gift
Family/relations usually gift red packets during Chinese New Year for luck and prosperity, good friends drop by with gifts...ha. Much thanks to KimHwee & Mel for the pair of AirMax 180+, best of luck/health and wishes to the company! I prolly wouldn't touch a pair of these huge monsters usually, and i realise how long i haven't worn a pair of techie "trainers" these days. I'm so used to loafers, casual leather/canvas footwear, these seem like clogs on my feet..haha. Even the nikes i usually wear are just Dunks and AF1's, with the unseen Air in the outsole. This is basically the iconic 180s given the "360air" touch ie: they get supersized with the huge air bags. I think they should be called the AirMax 540 (180+360). And the insane amount of rubber, plastics, foam and vinyl is something i haven't experienced since Hasbro GI Joes!
That said, think I'll still give this a go, particularly coz its the
Nike+
range. Will be nice to see/hear how an exercise will sound like? heh
Hmm, that means i gotta get an iPod nano... should i get the 2nd Gen that'll go well with the Nike+ range of DriFit apparel (and totally on warehouse sale on ebay), or the new 3rd Gen nano?
Theres a new pink hue released as well
... though its a little more subdued compared to the Hello Kitty colorway of 2nd Gen
*
Undercover S/S08
Some peeks of the accessories for UC S/S...looking good!
*
Nexus VII Original Fake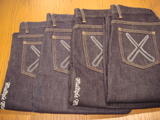 Not too attention-seeking, just simple quality stuff, lovely!
And the jacket is simply amazing...detailing and craftsmanship supreme
In case you're wondering, yep, 2 versions of the denim: Indigo/White and Indigo/3M
2 thumbs up
*
Original Fake x MarkDeanVeca
Sneaky pics of upcoming S/S08 featuring
Mark Dean Veca
, via
Kaws
*
Gucci hearts NY
Gucci does a little
red white blue
for a change to benefit the childrens' playgrounds of the big apple.
*
Zac Posen @ NY fashion week
Truly inspired piece of
blogging by Trendinista
to give interesting perspective into Zac Posen's latest works!
quote:
...all I could see were butterflies flying up and down the runway...
*
You're invited - All in the family
Streething
ropes in some familiar friends from around the region for some partytime next week at Zouk KL. Be sure to cop the killer Darbotz x SoleObsession event tee and check out the awesome footwear/artwork on display!
*
RANDOMZ
Boogie interview by Ping Mag
Ping Mag
drops another nice interview, this time with Boogie, about his bleak street life photography. awesome
*
The Story of Stuff
If you only have 20 minutes to spare, please please catch this video by Annie Leonard on sustainable production and consumption
*
puts Optimus Prime to shame
On the other end of the consumer-world, check out this tricked-out
Lonestar unveiled at Chicago Auto Show
...def for the pimps out there
*
Ange is WANTED
Is there anything Angie can;t do while being pregnant? Nope!
Check out her new movie this summer:
Wanted
*
Nicole channels Marilyn
Whats it with these pregger celebs?! still damn hot!!!
for Aussie Harpers Bazaar
*
Couple of vids to while away the lazy sunday...
Bloody Omaha - 3 guys and a shoestring budget
bloody genius
jumping jackass
i spilled my drink on this one
have a nice week ahead!