the pieces fall in place
Much like:
Beatles' Revolution 9
and
Takahiro Miyashita's Number (N)ine
Now i know:
Johnny Boy's
tune
"You are the Generation that bought more shoes and you get what you deserve"
is irritatingly catchy and fun.
Instant classic
*
The second coming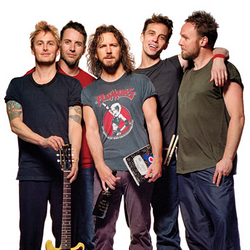 Its great to finally see Eddie and gang back on the cover of RS yet again.
Cover story
is pretty introspective and dwells a little into the gap between the albums, the renewed energy to what looks like the best album since "Vs", and the irection the band is heading. I've no doubt Pearl Jam are the tightest of rock bands in the world today, right up there with the legends. You may have an inkling of their previous hits; you may have heard them during your long solitary drives; and you may have been a former fan who got frustrated during those experimental years...
Go and get introduced to the band again today
*
Kostas x NBHD
Dropped by surrender and saw the new tee by current NBHD guest artist Kostas..lovely
*
Save the world, wear dirty jeans!