It begins
And so 4years has come and gone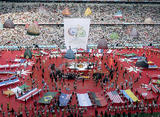 My eyes almost didn't heed my orders to stay awake for the opener. Thankfully, the match was pretty exciting...nah, it was an understatement, the match was flying like those
teamgeist balls!
Looks like a start to puffy eyes and zombified work-days...yippee
A pity Oliver Kahn wasn't playing in goal for Germany, i was pretty sure they would've won by a larger margin. Nothing escapes his "Terminator"-like presence. Peep this giant billboard-sort of ad from adidas at the German airport:
Smashing
*
FCRB
Couldn't be more fitting than donning my shirt-of-the-moment: Nike x Sophnet FCRB L/S jersey. Seems the simplest of ideas: get the best material and innovation fabric from a sporting label, add your own creative touch and
voila
! I think i'm gonna wear it everyday for good luck..heh heh
*
ec
This came through the mail the other day. Seriously suspicious, i'm surprised it didn't came opened and broken apart by the postal office.
hmm, maybe they have super-powered x-rays?
After 15minutes of picking through (5) layers of packaging, at which point i almost thought it was a layman's
matryoshka
. Thank god it was worth it:
It was a
HF
figure from the Sense collab with medicom. woot!
*
Nike dunk SB "SBTG"
Most sneakerfreaks would've known this by now, Mark "SBTG" finally gets his own official SB footwear. But the world-over only got to see this image which looks like those mosiac-covered Jap porn:
Ah, well..Earn finally showed the true pic on his blog. Not gonna post the pic, you gues figure it out. Just descriptions: Toe-panel features SBTG's signature camo print, "SBTG" embroidery at front of the lace, with goldswoosh and detailed heel liner. And the blurry thingie you see behind the swoosh? Its SBTG's now-familiar "Royalefam" logo. What's more, each pair of the 3000-pair run comes with custom SBTG lace cover, now a staple of his customs (ala recent Meth collab).
*
tee-pix
Some picks of the crop: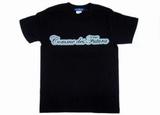 Touch of humor from Mr Lenny
I like this new print from Supreme:Raisin' Hell
And
sillything
managed to get their logo "Stussy-fied". Damn, i wish i could have the great SS write up something for me.
England match in less than 2hours - ta!