measured freshness
Some fresh steez from the post...
Cute lil' "measuring tape" pouch from erin's originals...via
thisisnaive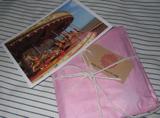 Thinking of gifting it to someone, no idea as yet. :)
Comes with lovely photo-postcard via Tommy's travels: thanks, nice touch!
ps: no Kuumba's attached though.. ;P
*
base control x fragment
next to drop by: a handy little garment, minimalistic just the way i likes...
great for summers, i can't wait to rock this
*
July's copy of CoolTrans has a nice obsevation of how certain denim fleshes out your kicks:
slim denim with white kicks, and
staright denim with high-tech kicks.
Much as i'd like not to follow what others tell you how/what to wear, I would've to agree with them! heh heh
*
RIP aka humidity sucks
There has been a passing in the fam...couldn't quite believe it when i brought them out for a "walk". They lasted not more than a couple of hours. True, the signs have been there for years, but i thought they'd have more resilence. I tried not to notice the cracks, fading and yellow...guess not
Them
Nike Air Zoom Havens
are one of the most under-rated and under-appreciated pair of shoes. Sure, they squeak a little, the plastic tends to yellow (prolly leading to its eventually downfall) and the low-profile takes some getting used to...but dang, they are some of the most technically-efficient and effective kicks ever.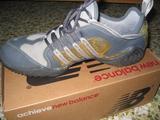 Yet another reminder to invest in silica gel-packs and be hydro-phobic. On the flip-side, it is a strong reminder to also invest...in another pair =)
Which brings us to my third and finest receipt from the post this week: i thought i had lost all hope in them. And the demise of the grey pair only compounded the misery, of never finding them...So, what joy and luck to finally win these babies.
What's the big deal? Well, i won't go into the actual shoe details - get a pair and you'll know the feel. Instead, lets talk about this pair: Womens-only release, meaning i had to find a us12 for them and;limited as hell in DS and clear sole condition -
nuff' said!!!
Ladies and Gents...Nike Air Zoom Haven - White/Aura
Sweetness
And notice how it is a
white
and
high-tech
shoe? So will it be slim or straight denims? maybe i shall post on the hype forums to ask...hahahaha
decisions decisions
laters