Satellite
Finally got the CommandZ tee i always wanted. I always liked the idea of a satellite group, where each entity get to have its own niche direction, but yet still have the same focus someway or another. Its probably harder to implement in this day and age of $$-comes-first...but then again, maybe thats why the "previously-independant/underground" labels and individuals are deemed the forefront of street style these days.
---
Rival did their debut with a collaboration with Gravis in 1999, and
now they are ready for another big hit. They will be available in two
colors, Moonstruck and Phantom. 300 pairs made in each colorway. Only
available at Gravis Tokyo on 10th December.
(thanx Katsuya)
---
aformofwar
Collection 2's title, aformofwar, is an extreme and direct reference
to the position SVSV™ takes against other street wear and luxury
brands.
View the complete line and the impending online launch in Nov
SvsV - Serum vs Venom
---
Following pics of the upcoming Fenom "disco" denim...these are much better(imho).
Fenom 207 vintage
Fenom 505 vintage
All with lovely selvedge and only readily available at your local one-per-customer stores worldwide or course.
---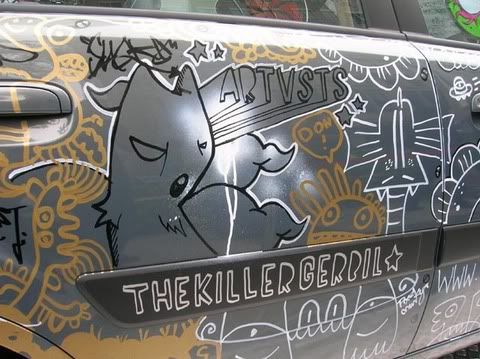 Mr KGB aka Killer Gerbil's artwork on show... man's got skillz
Go peep 'em here
the Killer Gerbil
---
Joanne
First things first, the answers:
1)No.
2)No.
3)Yes.
4)Yes.
Tha Questions:
1)Is she my girlfriend?
2)Do I know her on a personal level?
3)Would I like to know her on a personal level?
4)Do I think she is hot no matter what you guys think?
that's all folks...off to dreamland