MAIL CALL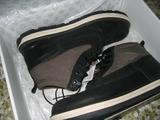 Taik your pick
Going by the name, its inspired in equal parts by
a) the vietNAM JUNgle boots, USMC-issued gear (notice the eagle-perched globe on tongue tab), lightweight performance hiker and
b) the late
Nam Jun Paik
, video-artist who could also have inspired the Paik model of footwear by Visvim. Interestingly, Nam Jun Paik also participated in the Neo-Dada art movement
Fluxus
(which incidentally is the name of Visvim's denim line)
Then again, all this is nothing new, since we've been talking about Visvim's
FBT's
and its subsequent
double tone
colorway. I guess i just enjoy the fact that Hiroki puts as much effort and thought into a product as i get unravelling them.
Fit-wise, its a pretty good urban boot. I can't rate it higher than good ol' leather jungle boots or even the current gore-tex versions for use in the jungles. Not that its meant/intended to. The outsoles are comfy and more suited to urban-wear, and the mid-cut ensures no terrain too steep or tricky else you get risk ankle-twisting. All said, you can call it over-designed military-inspired footwear, i like it all the same.

Nike Blazer (Stussy)
From olive green to poison green, yet another grail bites the dust and ends up on my feet. No way am i passing this up for a fair price. Back when the interwebs was still fresh and the connections not as strong, getting this was insanely difficult. Hook ups were few and far between (for retail? ya gotta be real fam) and paying more than 2bills for a pair of kicks was unheard of (pre-SB my friends...yep, pre-historic), i just couldn't get a pair. Fast-forward to today, i still ain't paying 2bills, thanks to hype kicks and SB's, i'm finally able to get one of my grails...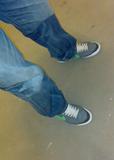 Nexus7 "stoned"|LVC|StussyBlazer
...which i duly wore out to town :) ahh, the world is fine once more...
***

Major Force box set
Just a random pick up, cos its looks so dope. And notice for the sleeves that besides yellow; red, green, blue, and grey are also colors for HF's Nike Tennis Classics? (sure its just coincidence, but i like to think otherwise, ha)
***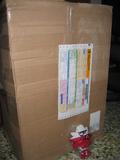 How big?
Huge parcel dropped in early on in the week.
And with it, couple of choice items from ACRonym's F/W08. Broke out the messenger right away, what a awesome bag! Pics of the bag and my new jacket laters, i just can;t stop discovering more aspects of the bag! It can be configured to be as compact for a laptop and huge enough for up to 3 shoe boxes(!)
***

"play ball!"
Also copped a couple of Michael Lau's soccer-nuts he did for the world cup, signed and bagged - all for the price of postage! ha!
***
Speaking of Michael Lau, quite a little stir came up via a
flickr posting
recently. Apparently Mr McGurr (who's
flickr album
is amazing i might add) is more than a little cheezed off at Lau for the "rip off" of his pointmen creation.
Personally, i do understand interlectual property and all... but can't the (old) man just take a chill pill and bask in the (shared)limelight?
I don't see
Matt Groening
,
Nickelodeon
blasting Kaws for Kimpsons or Spongebob sKWarePants?
---
DROPZ
Bounty Hunter 13th anniversary
Hikaru rocks the anniversary jackets the only way he knows how! H-A-R-D!
Left is an N-3B collab with Hysteric Glamour, Right is with Undercoverism!
Closer pics via Huge mag. Sure, you and i may just do the "tame" black one, but do you expect anyone else to pull off the blue one like Hikaru?! haha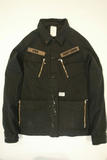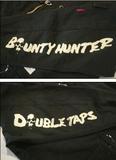 And then theres the badass modified jungle shirt/jacket collab with w)taps. awesome
*
Goodenough
GDEH anglo-french shirts, don;t you love the buttons and plaid?
*
quirky item of the day:
Uniform Experiment's "babystar experiment" snacks... ?!? ;)
---
RANDOMZ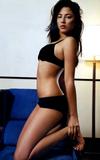 Oh snap: Jessica Gomes for GQ Italy

Yes We Can, Yes We Did
headlines from around the world
Link
yes, the Kobe/Hawk/Phelps/ARod ad was cool in a way, but Ms Klum wildly jiggling in her Victoria Secrets undies is off the charts!
Apparently, there a
SFW version
...booo! hahaha
"Slo-mo pecs and cool split screen"
Link
Under The Bridge: Literal version
no habla ingles?
LOL
laters y'all