Project Dragon
Got some brand new old tees in (if you don't know what that means, then you don't know)
Sometimes the simplest stuff are the dopest. Emblem logo? screenshot of stencil template rendering? score!
The sacred trio of Bleu, Stash and Futura2000 preferred to do work on the low, as evident from their label message...only for those in the know, nah mean!? ha
*
Stussy "Laura" & "East meets West"
got a couple of retro tee prints in the mail courtesy of the 'master
Still nothing compares to the vintage work of Shawn Stussy. Sure, the new 'do feels a little too clean and clear, but hey, its a homage to the firestarter.
And spot the familiar fella (2nd from right) amongst the shot of NYC Stussy Tribe? yep, its
Jules Gayton
of
Leilow
. respect
*
straight to hell
Courtesy of 'daninja', from the land of the rising sun and way-cool goodies, and also a reminder that i'd better have a fat bank account before i venture afoot into proddy-land.
Produced in conjunction with Boon magazine and perfect for the sweltering summer, ha
hot as hell
*
ipod nano
A pocket soundbite was dropped off and i'm in a dilemma
Nope, not how much songs i'm gonna cram in there, but what pouch/holder i'm gonna buy! hahaha, such is the after-sales market phenomenon apple has created!
*******
DROPZZZ
FC RealBristol
FCRB stylee with some big swoosh backing
*
Stussy GShock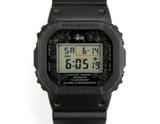 Another year, yet another variation on the GShock DW5000 model. you can never have too many watches...what time is it?
Stussy x OriginalFake
best be nimble, best be quick (unless your name is Jack), so you can
cop these
before they disappear
*
Puma EasyRider machine wash
Puma pulls these easy riders from the vault and promptly throws them into the washing machine!
Kids may gasp at the thought, but back in the day, thats how it was done. But not by me though, sneaks were too pricey to be put to the risk of ruining them
In any case, now Puma does it for you! haha. Look for them in Q4 this year, great for the Fall look
*
Nike Vandal High Supreme EX
Nike pushes the envelope on the "vintage" and "supreme" range of products
Not content with realistic ageing and usage of premium grade materials, some lovely design work went into this pair.
I love the 3D-feel throughout the upper and the choice of colorway (black/black/dark army is just my kind of stompers), even the Nike font on the heel tab and ankle strap has been modified. And i don't remember any other Vandal with its name embroidered on the tongue tab.
But you know the best thing? You'd have to b a sneakerhead to spot the woodgrain on the midsole. Awesome!
Due 16Jun
at all good sneaker boutiques
*******
Nike for Olympics 2008
You'd have to be in a cave not to know of the swoosh's splurge the last few weeks on the Beijing08 offensive. While the rest of the liter-/digirati got a first-hand look at the products, presentations and plied with good bed & breakfast at posh hotels, the public also got their first view of their Golden atheletes in Olympic competition gear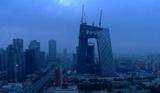 And where else to find a perfect canvas than the
Rem Koolhaas
-designed
CCTV HQ
. Due completion in the coming weeks, the controversial building is the perfect backdrop of the rise of the Asian powerhouse.
Peep the high res pics and video here
info via BGHD
*
Beijing08 BMX
By now, y'all have seen and read about Michael Lau's design for China BMX federation
Featuring the iconic red/yellow nationalistic uniform colorway, old skool blazer, crazy-ass shoebox and lovely vinyl (featuring Michael himself), it is a well-rounded package.
And if you think wearing a uniform by Nike x Michael Lau is dope, how about one designed by W)taps???
Unveiled by Tet recently at Nike HQ, these lovely images have just been released by the
man himself
Featuring detailed embroidery of a dragon on the sleeves and map of Japan on the back, the uniform takes after the style of Yokosuka jumper or Suka-Jan.
It got its name from Yokosuka City in Kanagawa Prefecture, where these jackets were first created. During the post-war era, these varsity style jackets richly decorated with embroidered traditional Japanese designs, such as dragons, tigers, hawks and Koi carp gained huge popularity among American soldiers stationed in Japan.
Whatever the case, its gonna be dope watching the Games and spotting these gear!
*******
RANDOMZ
WALL.E fever
Meet the cast of robots in WALL.E
i can't get enough of him!!! y'all may have seen the vacuum cleaner vignette, but these just came up!
hula hoop
meets a magnet
headphones
and best one yet...makes me think of the Sony Bravia bouncing balls!
bouncy balls
*
Kate Beckinsale for Mean mag
Kate has attained milf-status No.1 in my books
for this
.
we need more Kates in this world!
Penelope wear short shorts
Penelope wears short shorts on set...along comes a windy breeze. Proves God is a man afterall. :)
peace y'all