Ventured out in the blistering heat to catch a movie
Nexus7/DaftPunk | NBHD | NB587 | Gshock/Haze
Kungfu Panda
is a hoot. And i think it'll be a hit among Asian folks, coz it bears so much similarity to Jackie Chan's vintage early films of an outcast going against the odds, even the scenarios are frame-for-frame replicates. I guess the ultimate homage is when they invite Jackie to be the voice-over for the role of "Monkey".
Better than this one:
Best. Movie Review. Ever. RARRR
"Hulk. Smash!" Yes. Hulk. Smash. Yes. Smash. Big Hulk smash. Smash cars. Buildings. Army tanks. Hulk not just smash. Hulk also go rarrr! Then smash again. Smash important, obviously. Smash Hulk's USP. What Hulk smash most? Hulk smash all hope of interesting time in cinema. Hulk take all effort of cinema, effort getting babysitter, effort finding parking, and Hulk put great green fist right through it. Hulk crush all hopes of entertainment. Hulk in boring film. Film co-written by star. Edward Norton. Norton in it. Norton write it. Norton not need gamma-radiation poisoning to get big head. Thing is: Hulk head weirdly small. Compared with rest of big green body.
Read the rest of it here
. LOL
*******
Pick up
GDEH denim '03
Managed to pick up a pair of Goodenough denim from '03 for the HF collection
In his earlier work on Electric Cottage(EC) denim, HF started with the selvedge trim on the right back pocket; and now adds on the by-now familiar cellphone zip pocket on the right thigh. Its pretty much a precursor of the Levis Fenom denim that came about from a collaboration with Fragmentdesign which HF heads.
New Balance MT580BK "TN2"
Dug this up quite by accident and had a pleasant surprise too
Released back in '04 as a collaboration with NewBalanceJapan/MadHectic/Mita on the urahara model of choice the MT580, this was also a signature shoe for celebrated drummer musician Takashi Numazawa, as part of the "New Balance for Music" theme.
Don't ask me if it helps in playing the drums as it does for running, haha
This is the 2nd edition of Takashi's signature shoe, hence the common nickname "TN2"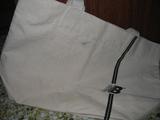 A nice gift alongside the set is the hemp canvas tote bag. And heres where it got interesting. Besides the logo imprint of "TN" and "NB", the red tab looked mighty familiar
Yep, turns out to be a quadruple collab that includes cult Japanese denim
Skull Jeans by Alchemist
! I've not much other info on the inclusion of Skull Jeans, other than its origins and basis has always been musical.
---
Stussy / NBHD Boneyards
Hype's building up real quick, and i can't wait!
*
Hudson Jeans
Kate and Gisele look great in Hudsons...which led me to their site and this lovely-shot
ad for F/W08
THE COOL GREY CITY IN HUDSON JEANS
from
Steve Sanders MMP
on
Vimeo
.
*
YSL
Paying sartorial respect to the passing of the great YSL: Westwood, Galliano, Schiffer, Lacroix
Check out the A/W 08/09 show for YSL Rive Gauche
amazing
*
Stussy SF 7th anniversary : Vanish Project
Stussy SF has always been supportive of Jap urahara labels, and for the 7th anniv, the big guns were sought out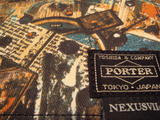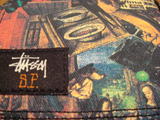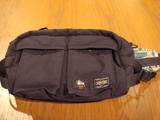 Nexus7 x HeadPorter x Stussy: pouches, bags, accesories
OriginalFake x HeadPorter x Stussy: daypack
Only limited numbers will be released at the collaborative stores: at Vlack, r*izm and OF boutiques; while the full range will be released at Stussy SF
*
Stussy Honolulu Hawaii crew: sk8thing
Legendary streetwear designer/mastermind sk8thing lends his touch to the Honolulu prints
Get 'e
here
and
here
*
GDEH handstitch polo
I like the look of this, so simple yet the intricate detailing makes it stand out!
Someone get me one in L!
*
unrivaled
ain't too late, just in time for summer!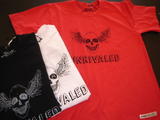 ---
wants
Emil Kozak for Kelly Slater
I can't surf for the life of me, nor think i ever will, but this print is too awesome to only appear on surfboards!
While the tree design has lots of nice little details, the whale print is just too dope! Designed b
Emil Kozak
, shaped by Al Merrick for Kelly Slater. Imagine turning up for competition with those boards! ha!
*
Sideshow Collectables: Snake Eyes
Theres not much to be said when you look at the above pic, except: BUY ME!
Still kicking myself for not being fast enough to pre-order the Sideshow toy
exclusive edition
. But hey, if its any measure of popularity, this is a pre-order for Q1 NEXT YEAR!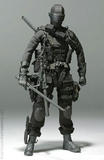 too-too dope!
pics courtsey of
toysrevil
and
sideshow collectables
---
RANDOMZ
Charlize Theron for GQ UK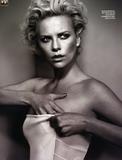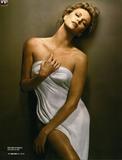 Laters!