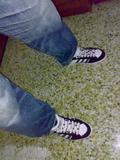 bape|LVC|adidas superapeskate
Been through it countless times in my head, have said it a million times at least..."its gonna be my final pair, i'm done for the last time". Trust me, it never happens, LOL. And such as the pair of super ape skates, i was fortunate enough to get
a pair to ice and a pair to rock
, so to speak. The completist in me requires the matching event tee though, so help anyone? :)
MAILCALL

M991 NGY
I adored my brown/purple M990 from last year, and i'm impressed by the slight upgrade of this 991. Not much variation on the uppers and design except the outsole, but i guess the average reader here ain't gonna be bothered by that. In any case, this pair is perfect comfort wise, and casual-Friday-like with the grey-tone suede/nylon combo.

MTG580DA goretex
Profiled this release pack a while back, they just dropped at your best shoe boutiques. Fit-wise is a slight change due to the materials and construction, and i'm defintely in favor of it. The stiffer feel on the heel makes it hardy like a trekking boot. The one-piece waterproof lining to the tongue keeps the foot snug. And of course, leather and Goretex protection on the outers against the elements. For now, still can't decide on whether to rock the bungy cord or conventional oval laces (the cord is too long, imo); but its definitely gonna see some pavement/road pounding in the rain very soon.
---
DROPZ
Goodenough Krazy Kwilt


In case you couldn't decide on your spring color, just go with the patchworking Madras look. Always trusty in spring... just don't do the complete outfit thing, alrite?
Unrivaled


This is such a dope jacket, understated and at once complementary
Lowe Alpine


Nothing too outstanding, but i just kinda imagined how cool it'll look aged and distressed from the elements
Grok Leather M&M


This piece from Grok Leather looks pretty solid don't you think? Not too wide, probably heavy enough for the "feel", and timeless detailing on the outer. Comes with custom case by M&M (heck i'll get the bracelet all the same w/o the case, heh)
Junya Watanabe MAN
It was a tour de force showing on the runways, when the models walked down in 1 look, turned and reversed the outfit for a 2nd look, now check out the close up pics of the outfits
Blazer...
...into M65 (the cut looks awesome)
its amazing how this conservative look tanslates
to a classic Levis denim jacket, albeit done in punk-ish electric blue BountyHunter Hikaru-style
a more country western style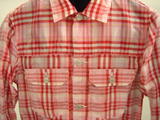 i quite like this look, prolly coz its less harsh than the blue jacket
JW's collabs with Levis are always the gems each season as you can see above. Just too bad my paycheck is not astronomical to match the pricetags, else i'd so love them in my wardrobe. Its also why i treasure my 2 vintage pairs from the initial seasons. And if the ladies can be raving about this season's Balmain thousand-dollar skinnies, then i'm all over these "grand" indigo creations from Junya. It may look simple, but the wash and cut is exquisite, and Junya adds an element of surprise (pocket detailing, separate material on the turn-ups etc) on each one of them
Junya x Levis 501 '47
love the gingham (IT fabric of s/s09)
JW x Levis 505
Pocketwatch and back-cinch leather detailing on raw denim is on point...sweet!
JW x Levis 501 '33
raw denim with carpenter pockets and side loop
---
RANDOMZ
I swear Bruce Wayne drives one of these
Tramontana R edition
monsters. Heck, words don't do justice, just gawp at the pics. Specs and
promo vid here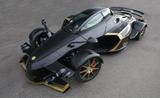 Speaking of road-racing quicksilver's, peep the new Lamboghini Murcielago LP640 Superveloce
Tidying up the angle-ridden-geometric marvel of the Reventon (pronounced Re-ben-ton with aplomp like
Jeremy Clarkson
), this is one top bull thats
faster, lighter and more powerfull
than its predecessors. And doesn't that engine hood look awesome like a
Vertu
keypad?
Fave looks of the week courtesy of the Sart
2 cute chicks with immaculate color/print/layer-coordination, flanking the stylish gent with the "been 'round the world" air feel. Mmm, i need some leather trainers with my shirt/pants getup soon
Gisele for french Elle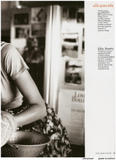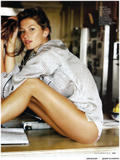 she's cute as a button, Tom Brady is a lucky bastard
laters y'all, ciao