Saw a couple pals posting up old skool fits, and got tempted to break some of mine out for air
Saturday:
ape|gshock haze|lEvis LVC|nike stussy
Headed out with the GF for some delish sushi/sashimi lunch (maybe i was just hungry) and picked up a dress she had reserved a week back. Wanted to catch Dark Knight but was amazed by the filled out theatres in town. Its been a long time since i saw the whole day's slots filling up to the brim. In the end decided to postpone it to next week, hope i don';t regret it when mates start rubbing it in... hahaha
Sunday:
stussy wtaps|luminox stussy|lEvis 503B|nb mt580 TN2
Popped out for a quick lunch/tea break and also dropped by ToysRUs. Since Wall*E the movie had yet opened here, i wondered if the toys have arrived. Boy, i really felt like i was 8yrs old again. Too many toys, too little time! Really wanted to see the super deluxe remote controlled Wall*E, but couldnt find it...its either not distributed here, or its too ex for the market (usd$250 in the states). Saw the intermediate version though (usd$60), mulling over whether to cop... yea, this coming from a dude that cops vinyls and used shoes for much more lol
The say time travel is expensive, i couldn't agree more
A couple of maildrops the past week...
Bape sta-camo
I've always loved the big ape head logo tee, and i was stoked that this featured my fave Sta-camo print. Its a release for the US market as seen from the sizing...
And probably only an ape-head like me will appreciate the fact that besides the seeming-typo text of "aprimal apearel" on the label, it was a subtle dig at "american apparel". Yes, the nerd in me loved it
Very Ape "RL"
And definitely only otaku's recognize that Nigo's been poking fun of American sportswear ever since birth of the label. Check out this Very Ape basic tee, and the very "Polo Ralph Lauren"-esque embroidered logo and size label...Perhaps the only reason i'm still digging ape stuff till this day, is to still hope for more of these subtle references
Oh, and in case you missed it, the ape-head sleeve tags of old had the "registered R" on the left of the logo.
Told ya i'm a nerd =)
W)taps "Ronaldo"
Way before Ronaldo gained weight, had a bum knee, questionable sexual preferences and overshadowed by the "other" Portuguese namesake, he was actually quite a monster by the way he terrorized the Serie A defences. Been harassing my buddy Jon for this figure ever since i knew he had it. Black/Pink? evil. Flaunting the Inter Milan Pirelli jersey with splatter BDU's and Supreme Downlows? Way awesome!
I'm pretty much game-over for my designer vinyl collection with this piece. It closes out the earlier W)taps "terrorist" figures.
Now if only i can get my hands on those BountyHunter Mickey and Disney figures...
*******
drops
Unrivaled
Couple of new prints, quite like the chosen verses
adidas Doley
Pretty nice basic piece of canvas slip-on from adi. Wonder if it was cross-referenced for Visvim's Foley?
---
Megan Fox
she just awakened the star wars nerd in me...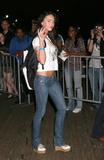 Front magazine Aug
i'm truly convinced Kitty Lea is hot and Front is a magazine every dude should buy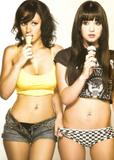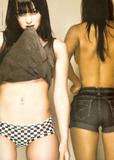 *******
GirlTalk - Feed the Animals
Link
Girl Talk does an insane number of mix/mash in the tunes. While most purists will hate on the cross-genre mix, i'd say its a great way to get thru the commute with his tunes on the ipod
I somehow appreciate them more by watching the vid. This guy does a pretty spiffy job, check his other vid creations
been hella busy with work lately, sorry for the late postings... check back again, ya?! laters