no such thing as small change
Urgent package came early in the week. Part of Converse's
Product Red
contribution, its also the 2nd colorway by "Artist #75":
Hiroshi
. Love the plain and simple packaging made from recycled materials.
A much appreciated gesture is an accompanying shoebag done in the same vein of black-on-black print
much props Riccardo!
*
wtaps commander cap
This taps cap also popped in the mail. My first commander cap, ha! Ripstop goodness, yeap!
*
wtaps Philosophy zine #4
Speaking of wtaps, Rick dropped in zine#4 along from Milano (thanks!)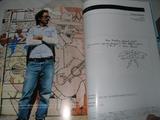 Nice reads and insight...pity its ended its run, will there be more from Tet? hope so!
*
wywt
"lets get lost" | Fenom | CasioFragment | ConsFragment
call it beastly or HF-love, LOL
Still not feeling too well from bouts of irritating cough. Just hate the groggy feel in the morn, ugh
Plenty of sales as usual in town, but not in the mood for dropping $$ on them Ferragamo's or Hugo
*******
drops
Goodenough UK
First glimpses of the new UK season of gdeh
Some neon-glow for the summer? I like the reflective print for the G-logo
Look for the folk print/embroidery, not unlike HF's other divisional work for Fenom
*
unrivaled
Some new accessories from Unrivaled (hmm, nice bag)
Let It Ride
Liking this tee from LIR as well
*
NB x MadHectic x mita MT580
Theres always a constant during Summer in Japan, whether it was another 'preme box tee, another nbhd savage wash or yet another bapexclusive camo hoodie, but there'll be excitement for
mita's
MT580 with MadHectic. Into the 11th edition now, this perrenial sold out collaboration combines some of the most hankered-after models, the 2nd and 3rd releases from 2001.
My head calls for the white/olive but the heart yearns for the grey (all-time sentimental fave)...help!
********
RANDOMZ
Shep does good
Never really bought into his Progress posters for the Obama campaign, seems just too commercial (but then again, you argue, its the way he is). But i'm more appreciative of these reworked covers for
Penguin's literary classics
, and how they really corelate to his original propagandist views
*
could this be real?
sourced from the official
white house photo gallery
of VP Cheney's fly-fishing trip
What's that reflection in your aviators veep? a naked lady with boobies?! Is that why you're flashing your oft-missing smile?
**edit:
it could be too good to last
*
Alessandro Ambrosio for VS Obsession
sssmokin'...
*
ban the korean archers!!!
...seriously, i couldn't believe my eyes
laters!