boredboredbored
Marc Johns
does
amazingly simple doodles on Post-Its that just crack me up, yet makes me think as well...
*
Fred Perry Paul Weller shirt
After the big hooha over the previous limited edition polo shirt release, the
FP
collaboration continues with a new range of limited edition (but of course) shirts
Go get your names down
if ya want one
*
Resonate drops
Yet more tee prints from RSNT
Love the
block print
and "dots" tee, which are actually tiny "R"s...
Smiley "mug-shots" and a button up with cooling ventilation that should be awesome for summer. And check out the dope packable jacket for those dreary April showers
*******
Death of a President
I've yet to watch the
fictional documentary
that was released to much controversy late last year through topics such as civil liberties and just-war theory by imagining the assassination of George W.
In an assassination of a different kind, check out these interesting art installations by artist
Yazmany Arboleda
.
the talk about the character and reputation assassination by the American populace on both candidates' historic race to the presidency. It definitely stirs up the current
rumour-mill fodder
about sinister conspiracy plots that are just simply sickening to think about.
The images are sure as hell controversial, hence it was by-appointment only, but you can view via the websites
The Assassination of Barack Obama
The Assassination of Hillary Clinton
, which i might add is pretty hilarious, esp the acerbic yet spot-on fashion statement by Suzy Menkes
Instead of sensationalism, i'd say the images work well to make one think of all that is happening (whether visible to the public eye or not).
*
BarackObamaisyournewbicycle
On a more light-hearted note:
Would definitely be delighted if it really happened, but hey, at least it stokes my ego a little... LOL
http://barackobamaisyournewbicycle.com/
and
http://hillaryclintonisyournewbicycle.com/
and seriously, there appears to be
plenty of funny bones out there
on the
meme
trip
All i can say is, spread the word! :)
*******
RANDOMZ
zomg
Rihanna dips it low
damn...now i know why Beyonce rushed to
tie-up Jay-Z
*
Giselle photo shoot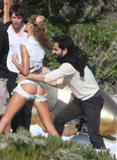 I bet that's gonna look awesome on my resume:
Professional ass-rub, client: Giselle
On a side note, are those gay torn acid wash denim shorts in again? ugh
*
holy Miley
Ok, so she's the daughter of one-hit wonder Billy Ray Cyrus and i admit i did watch her "Hannah Montana" show on cable
couple of times
She is also
under 16
so there shouldn't be any problem showing these pics right?
However, a tweak of the "gamma" settings and voila: holy underage cameltoe!
sleep well...laters!