New Year & misc pix, yo
Its been a pretty relaxing and well-taken rest the past week. Food's been good to me (my tummy's testament to that) and its great to meet up with friends and fam during the festivities. House visits are de riguer, or course. Its traditional to wear new clothes as the superstition represents a fresh start to the new year. The weather doesn't really permit much permutations in clothing, which is just as well...i have too many tees anyway.
Purple Lacoste x Levis x Junya Watanabe CDG x Bape Sta denims (boxfresh y'all)
GDEHUK "Doggienough" tee in color-of-moment purple and to match the year of the Dog
"Zoopreme" and Stussy x Nike "XXV" x Stussy camo berms
Thank god i bought larger sizes, i think i must have grown 1 size up from all the food i've been stuffing...bleah
*******
adicolor
The news have been all over the net by now. Go check out the
adicolor series
revived by
adidas
. No longer confined to the Superstar, the customization spirit has expanded to other footwear ranges and collaborations with more mouth watering labels ala 35th anniversary.
*******
fcrb
FCRB
churns out the hot stuff year after year and '06 is looking good. Make sure you got Flash and Shockwave to check out the nifty displays: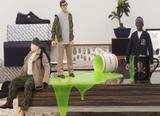 clothes-kicks-toys ahh...the life
*******
Speaking of Soph.net, the
50% be@rbricks
will drop Feb. cute
Stuff i'm loving: Number(N)ine '06
liking the footwear
easiest apparel to design huh?
"who is this rocker s'pose to be?"
UC tour tee
*******
evel
Why the pic above? Not much reason...oh btw, Kanye's new vid for "touch the sky" has him playing the role of Evel Knievel. Directed by Chris Milk, its so huge, its got its own
trailer
. Catch him perfom at the Grammy's next week. Word is Pam Anderson will dance with him on stage(!)
*******
Got a low cost "media-set" (i made that up) couple days ago so i could watch the dvd's in the comfort of my room...CD/VCD/DVD/MP3/CD-RW/tuner/cassette (they still produce those things these days?)
Sharing some rare real estate on the shelf, its prob the only place where you can spot empty areas in my room, ha. Pic of the left shows some of the promo flyers for "french connection" label. Shout-outs to Eve @ Gamut: props!
Some of the other stuff: toddler NB594s (Arthur, i need more kicks!) and "souvenirs" from my teen years (that "2A" tag is from Mac's in case you find it familiar...oops)
*******
V-day's approaching...get these cute
mimoco
love_hate flash drives for the memory (ha! a pun!)
*******
APC 06
peep the new collection for
APC summer 06
*******
tis the shit yo!
FEARLESS
Catch this movie for its the last martial arts film for Jet Li (before moving to other drama exploits). Its seriously the best Jet Li film since Once upon a time in China. While the cinematic edit is lacking in certain places, its still an awesome display of Jets' prowess. Getting the DVD fo' sure.
*******
stars and stripes
Just one more day to
Super Sunday
. Sadly, i'll be at work once kickoff gets underway...timezone sucks.